What is Rent a Friend? RentaFriend Review
---
Is Rent a Friend scam or legit? Are you searching for the Rent a Friend reviews in order to find out what is RentaFriend.com, scam or legit? If so, then you are absolutely in the right place because here, within our Rent a Friend review, we have provided the real truth about a Rent a Friend, both its pros and cons, such as RentaFriend complaints, RentaFriend scam claims, Rent Friend reviews/views, how to make money from RentaFriend and so on, overall about what is RentaFriend.
However, before we begin with our RentaFriend.com review, we want to make it clear that this is not a scam site. People are making money from this site and also getting satisfied for being members of it by hiring and renting people as a friend. So we have listed it within our Good and Trusted Online Works section. However, never misunderstand RentaFriend with a dating site, it is not a dating site, it is only for pure friendship.
---
---
Although we have listed RentaFriend site within our Good and Trusted Online Works section, it is not our No.1 recommendation to make money online because it is hard to earn enough unless you have good personality and you are not tired of meeting several strangers day to day and hanging around with them to different places. Actually there is also risk to work with this site because although this site is a legit, it can't guarantee the intention of people who are hiring you. Only after you meet them, you need to find yourself about their intention. So, actually it is not a platform to make full time living, it is only a platform to earn some pocket money. If you are looking to generate full time income, that is also completely working from home, without going outside or meeting anyone or referring anyone or without selling anything, then you may want to take a look at our No.1 recommended online work company known as Wealthy Affiliate about which you can find detail review by clicking this link:- newsonlineincome.com/wealthy-affiliate-review/
OK, let's begin with our review on RentaFriend as below.
---
Rent a Friend Login and Join in link:- http://rentafriend.com/
---
Background of Rent a Friend. What is RentaFriend?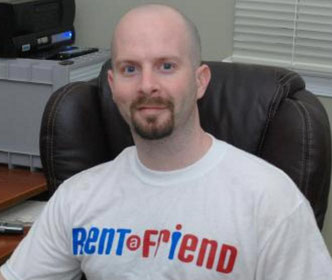 As per the WHOIS detail, the website domain was registered back in 1999 with an address 2320 NE 9th St, Second Floor, Fort Lauderdale, USA. But, the site was officially online and launched from 2009. The owner details are hidden within WHOIS details. But, from the lots of authentic news and medias, we have found that Scott Rosenbaum is the owner of Rent a Friend. You can find his picture on the right hand side. We didn't find any bad things about the owner of RentaFriend involving with any bad online businesses.
Rent a Friend is a website which offers the rent friend service that allows you to rent a friend from all over the world or you can list yourself within a RentaFriend website to provide service to become a friend of someone for some hours or days and get paid for that. Means you can rent a friend or you can become a friend for those who want to rent a friend within rentafriend.com for several purposes like, to show around the unfamiliar town or city, to guide in new city or country, to learn new things or to help for something or just even for walking around the park, for coffee, for dinner, for movies, and so on. Remember, you can't ask to have sex with a person here, it is just for friendship, it is neither a dating site nor an escort agency.
How to earn money from RentaFriend?
There is no cost to join and work with RentaFriend. Once you join this site, you can search anyone for free, but if you want to contact with other member within RentaFriend, you must pay $24.95 for the membership. You need to add you profile picture, fill out your profile and need to provide a great description about yourself to get started so that people who are interested to hire a friend, they choose you in the first place. When a member who are interested to hire a friend contact you for the purpose like, watching a movie or walk in the park or having a dinner etc., you can charge them around $10 per hour. However, if someone is looking for a friend to help them to do something, you can charge up to $40-$50 per hour such as for moving things, or showing them around new city like a tour guide, acting to be their boy friend/girl friend in front of their friends and families etc. You are still free to put the charges as the way you want for becoming a friend, but we don't think anyone will be interested to pay you $100 per hour when another member of RentaFriend is ready to do that in $10 per hour, isn't it? Anyway, it is really good opportunity because you can enjoy while you are earning in most of the cases. However, sometimes you may encounter with some people who ask for more than a friendship or even ask to do unusual things. So, if you are meeting someone for the first time, it is always better to meet people in the public. So, the risk working with this company is meeting the strangers, so we need to be careful always on that part. We have also found that some of the members have complained that their money got cut off from their credit card without notifying them. But, we are not sure that problem is from the members side or from the website side. Anyway, compare with the volume of the complaints, we can find much more positive reviews on RentaFriend and even you can find the news about this website in many big and small news medias as well as it has been also appeared in TV as well. Every company has complaints, but if the volume of negative reviews is low compare with the positive ones, then the company wins the game. And so far as per our research, we can find 90% positive reviews on RentaFriend than the negative ones
Conclusion
Aforementioned, RentaFriend is an unique website which provides you the opportunity to make money while enjoying with new friends around the world. Once you know about this website, you never have to be bored or feel loneliness where ever you are in this world. But, meeting strangers is all about up to you, at your own risk because we never know what kind of intention people have. So, you have to be aware from bad people. So, first meeting is always better to have in the public place. Although, you can earn money from this site, we can't categorized it as a platform to earn money to make a living from it. It is just a platform to have some funs and make some pocket money in the same time. If you are really looking for the good opportunity to make money online by doing real online work, then you should join and work with our No.1 recommended online work company known as Wealthy Affiliate. You can find the details on Wealthy Affiliate by clicking this link:- newsonlineincome.com/wealthy-affiliate-review/
Aforementioned, we have listed RentaFriend within our Good and Trusted Online Works section. If you want to take a look at our full list of recommended online work companies, then you can find those by clicking this link:- newsonlineincome.com/legitimate-work-home-businesses/
---
Please feel free to share this RentaFriend review with your friends and families:-
---
Related Posts:-
It will be our pleasure to hear from you. So, please feel free to leave your comment below if you have to say anything related with RentaFriend or related with any other online work companies.
We will be more than happy to hear from you and help you.
Good Luck!