Paidviewpoint Review – Paid Surveys, Is Paidviewpoint Scam or Legit?
---
Background of Paidviewpoint:-
The Paidveiwpoint is one of the paid surveys program, managed and operated by AYTM.

There are many team members in aytm. The co-founder of Aytm is David Handel and Lev Mazin. Lez Mazin is also the CEO of Aytm. Tom Tovar is the board member of Aytm.
---
Rating: 65/100
Suitable for: All
Recommended: Yes
Price to join: Free
Click this link in order to join Paidviewpoint :- www.paidviewpoint.com
---
---
What is Paidviewpoint.com (Is it another online survey jobs work home scams?)

:-
PaidViewPoint.com is the one of the paid surveys sites. In another word it is online research work company. They will ask various questions which they gathered from their advertisers who is seeking for market research and you have to answer them totally true in return of which you will get paid.
They do this research so that they can gather information and can make their products better. After all everyone need to sell their products in market. If products are not accepted by market then how much product is good, no one can sell it and will loose money. So they want to know the need of market before making the products so that they can make the best product which will be easily sellable in the market. Paidviewpoint research questions and answers are all about that. So you will get paid only for answering tick mark question.
Paidviewpoint Program Details:-
Like in other surveys program, in Paidviewpoint also you need to simply sign up and then wait the email to get surveys. But once you get survey invitation from Paidviewpoint, you will get total accesses to participate in that survey and earn money from it. Paidviewpoint will never throw you out in the middle of survey like other surveys companies. In paidviewpoint you get survey invitation means you get paid.
Whenever new research question arrive, they will email you and you can reply those question within 24 hour of email. Paidviewpoint have such kind of question everyday. If you don't want to check your email then you can simply log in to Paidviewpoint and check the new surveys are waiting or not. We recommended you to check once in a day. And if you want check surveys invitation through your email, then check your spam folder too. Sometime their email arrive in spam folder.
Once you get email, log in and click on survey waitings on right hand side top corner of the page. After you click, you will get series of short question which you just have to answer in yes or not or just need to tick mark. Usually within a 1 minute you can answer 10 questions and after answering 10 questions they will awarded you some money. Money you earn depend on geographic locations. People from USA will get higher income than Asians. But whoever you are, you will at least earn some money for answering 10 questions each day. Sometime you will get many surverys in one day and can earn more. Usually you will awarded 0.03 to 0.1 USD for answering 10 questions. Sometime they send higher paying surveys that can pay you from 0.30 up to $2. Those surveys usually have limited time offers so you need to respond fast to get them.
And you can increase your earnings with referrals. You can get 20% of earnings of your referral cashout amount each time. But to earn from referral, your referral must be active and earn for themselves and must cashout. To learn how to get free direct referrals in Paidviewpoint and any other program, click HERE
Another way to earn more money is by building your trait score. Paidviewpoint never ask your personal details like other survey companies but they have give you trait score. Each and everytime in the middle of survey they ask you tricky questions about your hobbies and interest, and those kind of questions they will ask you repeatedly. If you reply them truly, then your answers will be always same. But if you try to lie them then you will forget before what you reply to them and can give different answers which lead your trait score less. So in paidviewpoint always give true answer, be honest cause if your trait score increase, you will get higher value survey. Yes you can earn more in paidviewpoint by increasing your trait score day by day. Once it reaches the highest level you'll earn a lot more money on the surveys.
And you can cashout via your paypal account once you reach $15 earnings.
Free to Join or need to pay?
Paidveiwpoint is totally and completely free program to join and work. You never need to pay for anything. Just work. Answer some questions daily and earn free money online.
Drawbacks of Paidviewpoint:-
1. Paidviewpoint will make you do some phone or text verification before you can request your payment via paypal. This is to check you are real person or you are opening multiple account to cheat them. But no need to worry about it, it is easy to complete. It is not so much hard as it look like.
2. You must be very careful when you are putting your mobile number and paypal email address during registration process with paidviewpoint cause if you need to change your paypal email address or phone number after then they will freeze your account balance for 6 months from the date you change it. So from the begining put the paypal address and phone number which never need to change.
3. It is very slow to earn in the beginning cause even you have referral, you will get commissions from them only when your referrals cashout.
Click the picture below in order to register and work in Paidviewpoint:-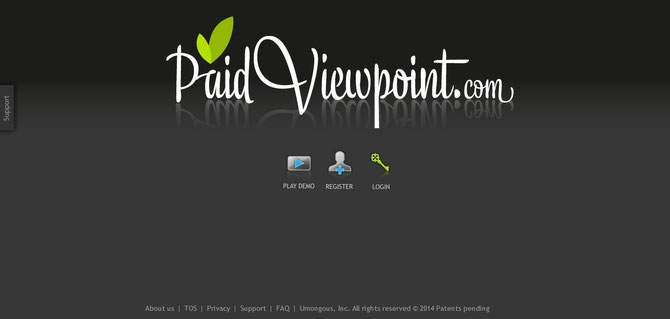 ---
---
Related Posts:-
Your comments are valuable for us. So please feel free to leave the comment below if you want to report anything about Paidviewpoint or want to give any feedback about this page.
We are happy to help you.