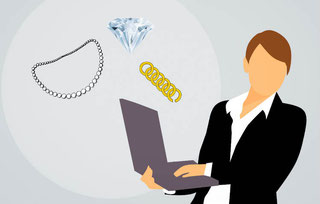 Instead of explaining too many things, we directly want you to head over to the 5 simple steps to start good affiliate marketing business. We are sure you also don't want to read a too much lengthy article with lots of explanation. However, definitely, we like to explain little about what is affiliate marketing before we head over to the 5 simple steps.
What is Affiliate Marketing?
Affiliate Marketing is the process of promoting the products of other companies and get a commission for selling those products. Those kinds of companies provide the affiliate link which we can promote and when people click those affiliate links and purchase something within that company, we will get a commission on the amount of purchase. Depending upon the various kinds of companies and products, the commission we can get can vary from 3% to 50% or even more.
Now maybe you are thinking it is very difficult to compete in the market and sell something from your side. Nope, it is not. It is really very easy and that is what we are going to explain to you here. So, let's head over to those 5 steps of affiliate marketing.
1. Choose a niche
The first step is definitely about choosing a niche. Niche means the subject of your interest in which you have some knowledge so that you can write some contents/articles related to that subject. There is always a possible way to make money from any niche. So, instead of thinking which niche is profitable for you, it is better to think in which niche you have enough knowledge to write some contents/articles.
So, the first step is to choose a niche. In this step, you no need to do anything. Just think in which niche you can write several contents/articles, that's all.
---
---
2. Make a website
OOOOOO, now maybe this step make you afraid. But these days making a website is not difficult. It is very easy. There are lots of hosting companies where you can make a website free of cost very easily. Google Blogs, Wealthy Affiliate and so on are the best examples for that. However, we never recommend you to go for the free option because if you choose premium options, you can make the more professional website more easily. If you join those companies, you can make a website within 5-10 minutes without having any technical knowledge. It is really very easy.
As mentioned in No.1 step, you should have already decided your subject of interest by this time because you are going to make the website to write the contents/articles in your subject of interest. So, the website name will be related to your subject of interest.
You will find out the best possible easy way to make your own website at the end of this article.
3. Start to write the contents
Once you build the website, the next thing you should do is writing the contents. However, before writing the contents, you should do some keyword research in order to find out what people are searching in the search pages like Google, Yahoo, Bing and so on. Once you find out the best keyword which people are searching (the keyword which has less competition and good traffic number), then you should put that keyword on the title and first paragraph of your content and then need to write the rest of content on your own style. When you do that, people who are searching those keyword terms in the search pages like Google will find your website and will land in your website and you will get the free traffic/visitor from the search pages.
Well, now you are definitely thinking how to do that keyword research, how to add content in your website. Don't worry, it is as simple as you post the content on your Facebook profile. We will reveal how to do it very easily at the end of this article.
4. Ask for the comments, share your contents and write more contents
More comments you get into your contents, you will have more chance to rise up your contents in search pages like Google, Bing, Yahoo and so on. If you get your contents rank on the first page, then you will get more traffic and visitors. However, keyword research is more important to get good ranking and comments help to boost that ranking. So, it is always better you ask for the comment at the end of your every content.
It is also better to share your contents on social media sites like Google Plus, Facebook, Pinterest, LinkedIn, Twitter and so on. You will get more visitors from social media sites to your content which will help you to boost your ranking in search pages. It also works as a natural backlink. The contents which are share in Google Plus and LinkedIn also get rank in search pages very well. So whenever you write new content, better share that in your social media accounts.
And of course, write more contents/articles. Content is the key to drive the traffic/visitor in your website. More contents you write, more traffic you gonna get. So, it is always better to write as many contents as you can by targeting different keywords in each content. More contents mean more traffic and more traffic means more conversions and sales of your affiliate products.
5. Find the suitable affiliate programs
Actually many coaches will teach you to find affiliate programs first after you final your niche. But, as per our experience, we find out that there is an affiliate program for almost all kinds of products. The affiliate program of Amazon.com itself is enough to find lots of products.
And even if you can't find any affiliate programs suitable to promote through your content, then also you can make money from your website by applying with advertisement network services like Google Adsense, Media.net and so on. That's why it is better to focus to drive traffic/visitor first than searching for the products which will have an affiliate program. If you can drive traffic in your website, you can earn money from your website in various ways. And like we have said before, the key to drive traffic is by writing as many contents as you can which is only possible if you make a website in your own subject of interest because you can write many contents in particular niche only if you have lots of idea on that niche.
Still it sounds difficult for you? Then here is the easy way
If you feel our 5 steps to make money online from affiliate marketing is difficult for you and want to find the easy way then it is better you join our No.1 recommended online business training program known as Wealthy Affiliate where you can learn all these 5 steps very easily with step by step video tutorial.
In Wealthy Affiliate, you can make your own website within 5 minutes because everything has been set up for you by Wealthy Affiliate. You just need to choose the website theme and then your website will be in a readymade format where you only need to post the contents as you post in your Facebook profile. Wealthy Affiliate will also teach you how to post those contents, how to make your website more attractive, how to drive more traffic in your website, how to do the proper keyword research to make your content/article appear in the first page in search pages like Google, Bing, Yahoo and so on. Not only that, you will get weekly live training to support your work progress and 24 hours live support where you can ask anything related to your web business to clear your confusions.
Once you join Wealthy Affiliate, everything will be there for you. Wealthy Affiliate provides you the complete tools and training to make a website and make money from that. You no need to join any other company to make a website or to make money from your website. Everything you will find inside Wealthy Affiliate. If you want to find out the more details on Wealthy Affiliate, then you can click the following two links:-
A brief review on Wealthy Affiliate:- newsonlineincome.com/2017/01/15/what-is-wealthyaffiliate-com/
The detailed review on Wealthy Affiliate::- newsonlineincome.com/wealthy-affiliate-review/
If you want to register and work with Wealthy Affiliate directly, then you can join Wealthy Affiliate by clicking this link:- wealthyaffiliate.com/a_aid/04d6e53f/campaign/newsonlineincome
---
If you want to share this post with your friends and families through your social media accounts, then please feel free to do so:-
---
We love to hear from you. So, please feel free to leave your comment if you have any queries related to affiliate marketing or want to provide additional tips for affiliate marketing or want to ask anything related to online work and business industry. We will be more than happy to hear from you and help you.
Good Luck!