Click to rate this organization, product, or online activity!
Legendary Marketer Review: Scam or Legit?
---
Before we begin with our LegendaryMarketer review and point out either is Legendary Marketer a scam or a legit, first of all, we want to make you clear that we are not recommending this company. Don't think that we are not recommending Legendary Marketer in order to promote Wealthy Affiliate. Yes, we highly recommend Wealthy Affiliate as the best platform to make money online, but that is not the reason we are not recommending Legendary Marketer. We also don't mean LegendaryMarketer is a scam, but since the similar kinds of companies such as Digital Altitude and MOBE have been shut down by FTC, so we don't dare to promote LegendaryMarketer.
The programs where members need to purchase the membership in order to promote that membership level, that doesn't fit well with FTC guidelines. FTC also doesn't like the idea of selling high ticket upsells. In case of Legendary Marketer, it is selling high ticket upsells in extremely high price, up to $30 K and if members want to earn the commission by selling that membership, they must purchase that membership level first of all by themselves. If members have only purchased $30 membership level and their referral purchases their high ticket upsells, such as $997 membership package, then the sponsor who has purchased only $30 per month membership can't get a commission for the sale of that $997 membership package made by his/her referral.
So, you need to invest first before you even know you can make money or not. And trust us, it is not easy to sell high price services as those promoters are saying. On the other hand, FTC doesn't like the idea of purchasing the service first in order to sell that. So, like MOBE and Digital Altitude, Legendary Marketer also has a chance to get shut down by FTC. So, from our side, we don't recommend it.
However, we don't mean Legendary Marketer is a scam. There is a good side as well. The training offer by Legendary Marketer which you can get by paying $30 monthly membership is very good and updated. OK, let's find out both negative and positive sides of Legendary Marketer here in our LegendaryMarketer.com review as below.
---
---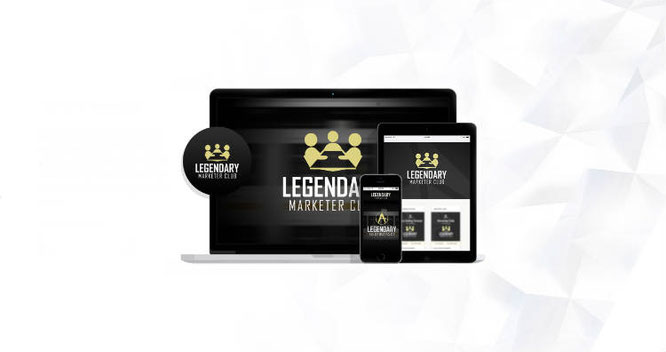 LegendaryMarketer login and join in link: LegendaryMarketer.com (Not recommended to join from our side)
---
What is Legendary Marketer?
Legendary Marketer is the online business training program which helps people to establish their internet marketing business created by David Sharpe (or Dave Sharpe) who was a co-founder of the failed company known as Empower Network about which you can find the details by clicking >HERE<. However, David has 9 years of experience as a digital marketing entrepreneur and educator which definitely make him expert to open the site like Legendary Marketer. Although Empower Network was a failure, he has achieved lots of success in the online marketing business. Legendary Marketer is the platform from where he is going to teach his members the online marketing business. So, if you join Legendary Marketer, you are going to learn everything that he has applied to become the successful internet marketer.
Legendary Marketer is also known as Duplicate Dave because members of Legendary Marketer are basically duplicating what Dave has created and used for the proven sales funnel that David has developed to make money.
Good side of Legendary Marketer
Although we don't recommend Legendary Marketer, here are some good sides of Legendary Marketer which we have admired:-
The training provided by Legendary Marketer is updated and can help you in your online business but the high-ticket membership is useless because those trainings are highly overpriced. So, according to us, the training that you can get in $30 per month fee and an additional $47 one time fee are useful. Other than that, we don't like the high-ticket overpriced training material of Legendary Marketer because those trainings are more focused to sell those high-ticket memberships than providing the good value training. So, the good side of Legendary Marketer is its training that you can get by paying $30 per month fee and $47 one time fee, that's all.
The training provided by Legendary Marketer is easy to follow and there is a community to help you. However, definitely everybody, especially your sponsor will try to make you believe that you will get good results by purchasing up-sells, but definitely, we don't recommend that.
At least Legendary Marketer doesn't have provided multi-level marketing commission structure like MLM companies and only provide direct affiliate commission. So, this helps them to prevent from being marked as a Pyramid scheme.
It provides 30 days money back guarantee which seems good but trust us, people will get confused by their up-sells because they will make their users believe that they can succeed later. So, it's hard to decide for lots of users either this system works or not within 30 days. On top of that, even its $30 per month membership provide quality training which definitely takes more than 30 days to learn. So, there is very less chance anyone will claim for a refund within 30 days.
Bad side of Legendary Marketer
The only product that you can promote in Legendary Marketer is its training and membership levels. Although the training of Legendary Marketer provides some valuable information which helps you in internet marketing business, but also most of the training is targeted to promote the high-ticket membership of Legendary Marketer which is definitely worthless.
Upsells are highly overpriced. Those high-ticket products are not worthy according to their price.
The training of Legendary Marketer is more focused to teach you paid traffic method than free traffic method due to which you will again end up spending more money on paid traffic.
Instead of providing tools and resources to help you to build your own online business, most of the tools and resources that Legendary Marketer has provided are focused to help you to recruit more people into the community, means to make a referral and sell high-ticket membership of Legendary Marketer.
You have to purchase the products, services or membership, whatever you call them in order to get the commission by selling those products. According to FTC, it is never a good practice to let people buy the products first in order to sell them. So, this term of Legendary Marketer can have a legal problem anytime in the future.
Like we have said before, after you purchased the high-ticket membership level of Legendary Marketer, mostly you can learn about how to sell those overpriced high-ticket memberships to other people same as you in order to make commission by selling those high-ticket membership packages. So, basically, what you can learn by purchasing those high-ticket membership level is just to sell them to other people to make the commission which is definitely not a good practice according to FTC and also not easy as they have claimed in their promotional videos.
It's not easy to find the people who are willing to purchase any training material which costs from $997 to $30,000. Most of the members end up making zero sales of such high ticket membership programs even in a year. So, you have to risk a couple of thousand dollars by investing first in order to make money from Legendary Marketer. If you failed to make sales, then you will end up losing your those investments.
Ok now let's find about the products of Legendary Marketer
Following are the products of Legendary Marketer as per your membership levels.
Legendary Marketer Club:- This membership will cost you $30 per month from which you can learn the basics of internet marketing such as, Facebook Ads, Lead Generation, YouTube Advertising, Facebook Fan Page marketing strategies, Instagram marketing and a weekly webinar about various internet marketing topics. They also provide you some resources within this membership level such as Landing page, Banner Ad, Video Ads, Ad Copy, Email Copy and so on. These resources are more focused to promote Legendary Marketer than helping you to establish your own business. So, the resources are not so helpful however the training that they have provided in this level of membership is good because you can learn lots of things about internet marketing just at $30 per month price which is good according to the price.
Traffic Rolodex:- This membership cost $47 one-time which provides the training and resource to drive traffic using paid traffic methods. Although the training material provided at this level is good but also we don't like the idea of paying $47 just for this additional training. They can cover this training within $30 per month membership.
Invisible Influencer:- This membership level costs $997 one-time fee which again teaches you to generate traffic, leads, and sales through Facebook. However, they have already taught that in $30 per month membership. Yes, they say this is more advanced course, but trust us, these courses are not worthy to pay $997. It's highly overpriced.
Legendary Builder Masterclass:- It costs $2,500 one-time fee which is once again highly overpriced. It includes attraction code, storytelling formula, master of enrollment and profitable presentation.
Legendary Leader Masterclass:- It costs $5,000 one-time fee which is also very highly overpriced. Because this includes the training like becoming the leader in your marketplace, building your brand and dominate your competition. Trust us, you no need to pay $5,000 for this training because you can get this training at a very cheap price, less than $50.

Legendary Marketer Mastermind:-

It costs $8,000 one-time fee which includes 3 days live in-person event in the US which is once again highly overpriced for 3 days live in-person event.
Legendary Entrepreneur Mastermind:- It costs $12,000 one-time fee which is another 3 day live mastermind event in the US which covers stuff like health, wealth, growth and personal developments, means it is focused to become a true entrepreneur. But once again this type of event should not cost $12000. The renowned expert in personal development and life strategies such as Tony Robbin's Unleash the Power cost only $1000 for 4 days event. So, why should we pay $12,000 for a Legendary Entrepreneur MasterMind instead of taking an event from someone who is the best in the world and even charge less?
Legendary Lifestyle Experience:- It costs $30,000 one-time fee where you can get 1-year personal coaching from David Sharpe. However, this once again highly overpriced because in order to get personal training from the expert, you no need to pay such a high amount of money. Even in our No.1 recommendation training program known as Wealthy Affiliate, you can always get full support from the owner without paying any extra fee, just on $49 membership level. So, we will never recommend anyone to pay such high-ticket membership fees.
Conclusion
If you want to learn everything from Legendary Marketer, you will end up paying $58 K in total. Well, we can do lots of highly profitable businesses by investing $58,000. Legendary Marketer is not worthy to pay that much amount of money. So, don't go after their sale pitches. It will be very hard for you to earn back $58,000 even if you start to earn money by following Legendary Marketer training. Most people even end up earning nothing at last because everybody can't earn by doing the same thing that David has been doing. It depends upon person to person. On top of that Legendary Marketer training are more focused to sell their high-ticket membership programs which is very difficult and even you need to pay first to promote them. So, you can even end up losing your investment if you unable to make a referral who is willing to pay that amount.
In the Earning Disclaimer page of Legendary Marketer, you can find out that they have mentioned the average annual gross income of affiliates is projected to be in between $500 and $2000. So you can imagine yourself how much you can earn. For all products, you need to spend around $58,000 and you will end up earning $2000 per year or even less. So, how many years you need to work to get back your $58,000? You can do the math yourself. Yes, few affiliates have earned lots of money and have shown the payment proofs. But, trust us, they are the one who joined this system at first and found some affiliates who are willing to pay those high-ticket membership fees. More than 99% of members will end up earning less than $500 per year within Legendary Marketer. We are not saying that by ourselves, their earning disclaimer shows that by itself.
Aforementioned, the business like Legendary Marketer is not a business recommended by legal authorities. On top of that, you can even lose money instead of earning from there. So, from our side, we don't recommend Legendary Marketer.
---
Please feel free to share this Legendary Marketer review with your friends and families through your social media accounts to let them know its reality:-
---
Do you want to say something about Legendary Marketer? Do you want to provide your own Legendary Marketer reviews? Do you need any help from our side in relation to online work and business industry? Well, then please feel free to leave your comment below.
We will be more than happy to hear from you and help you.
Good Luck!
Click to rate this organization, product, or online activity!