EarnIt Review. Is EarnIt App Scam or Legit?
---
Before you ask us either is EarnIt a scam or a legit, first of all, you need to be sure about which EarnIt app are you asking about. Until date, we have found total 7 Earn It apps. Anyway, you no need to be worried because here you are going to find out the reviews on those 7 EarnIt apps. So your search for any EarnIt app reviews ends here.
Now you know that there are lots of apps in the name of EarnIt. Some of them even are scams, so we don't recommend any of those EarnIt apps which claim you can make money from there. However, there is one EarnIt app which is not claiming to be a platform to make money and only that Earn It app seems to be good. That Earn It app is a tool for teachers and after-school staff to incentivize the students and modify behavior. Besides that, other EarnIt apps are worthless to work with because you can't make any decent money from those apps and even lots of them have many complaints from their users. Even one of those apps is a complete scam.
However, don't feel frustrated by knowing that all money-making Earn It apps are scams. You no need to work with these kinds of apps to make money. There are lots of best alternatives to make money online about which also we are going to reveal at the end of this post.
OK, first of all, let's find out the detailed review on these EarnIt apps one by one, let's find out what is EarnIt app one by one.
---
---
Different types of EarnIt Apps: Mostly scams and useless, only one is good
Earn It Investment Apps from Ghana:-
The EarnIt Investment App has become too much popular in Ghana and many people are investing using this app but this app is nothing other than the new version of Cash Gifting Scheme which is an illegal an unsustainable scheme.
This EarnIt Investment app makes people believe that they are participating in some donation program because they let people donate money to other members once they register with this app. Once you donate the money, you need to notify the person personally to verify he/she received your payment. If that person doesn't verify that, then you are matched with another member and need to donate again. So, your first donation got rip off.
Well, people still believed this app thinking they are really donating the money. But, none of the people are here willingly donating the money. They are here for the return promises made by the EarnIt app which is from 50% to 100% in 7 days. Well, literally you must stay away from any company which offers such a high rate of return in such a short period of time because that practically not possible for any company to pay.
Actually, this kind of scheme is the combination of a Ponzi and Pyramid scheme which both are illegal schemes. This kind of schemes collectively known as a Cash Gifting Scheme.
Actually, it seems it has already stopped paying lots of members because you can find lots of complaints from members for not letting them add new members to join the system. According to their business model, if new members can't be joined, then there will be no one to donate money to existing members due to which existing members will never get back what they have invested in this system. So, it seems the company is already going to be collapsed soon.
We feel the same scammer has been operating another similar kind of app known as GhanaP2P. Ghana P2P is pretty much similar to EarnIt Ghana app. So, here is the short GhanaP2P review for you:- Stay away from GhanaP2P otherwise you will lose your investment in the same manner as the members of Earn It has lost.
Earn It App – by THN STUDIOS
This app doesn't seem to be good because there is a very little information that this app has provided in a very unprofessional way. The companies or personnel who are serious regarding their business never will be so lazy to provide the information regarding their app. In Google Play, it has only mentioned that although there are many earning apps in which you can complete tasks, you won't get the payment but with this app, you will not let down, you just have to complete some tasks and the money will be yours within 24 hours.
We have never seen such unprofessional description of any apps ever. Even they don't bother to show how that app works and what kinds of work you need to do. We should be always beware of these kinds of apps because some of these kinds of apps may be the personal information harvesting sites. Remember, these kinds of unprofessional apps also may harm your device. So, better don't risk your device to download such apps.
Thn Studios has total 3 apps uploaded in Google Play and all seems very unprofessional and completely unpopular. So, this is another reason we don't recommend this Earn It App.
EarnIt – Task Earning App – by Jekil Dabhoya
This app is pretty much similar to Earn It app by Thn Studios. Although it has been already 5 months this app listed in Google Play, still there are only 10 downloads till the time we are reviewing this app which is the very negligible amount of downloads. Actually, the EarnIt by Thn Studios also has only 1000 downloads in 8 months.
Like EarnIt by Thn Studios, EarnIt by Jekil Dabhoya also has provided a very unprofessional short description about the app. It has mentioned in Google Play that EarnIt is the platform where you can earn money without investment and you should complete the tasks and earn points then redeem it in your payment account.
Not only that, instead of saying "you", both apps have written "u" and also both apps have similar kinds of spelling errors. In two sentence you can find more than 4 spelling errors. So you can imagine how much unprofessional these apps are. If there were some grammar mistakes and that is also in a very long description, then that can be considered, but making 4 spelling mistakes within two sentences description is too much. We never recommend anyone to involve in such unprofessional app or company to make money.
Since the spelling error and the way of writing the description of both Earnit apps, by Thn Studios and Jekil Dabhoya, is the same, it seems these both apps are from the same person. Anyway, both apps are unprofessional, so we don't recommend you to download these both apps.
Jekil Dabhoya has uploaded the bunch of other apps also but none of them seems professional or popular.
EarnIt – Task Earning App – by PARTH, PRANAV, KAUSHIL, FALAK, MITESH
Well, this EarnIt app by Parth, Pranav, and Kaushil is also not any different than the EarnIt apps by Jekil and Thn Studios. So, we don't think we have to explain anymore. From the app description to the business model and spelling error, all look similar. So, it applies the same what we have said about EarnIt apps by Jekil and Thn Stuidos as above, simply not recommended.
EarnIt – Ad Viewing and Earning App – by SilentLabs
This EarnIt app is at least a little bit better than the EarnIt apps which we have mentioned above. However, still, we don't recommend it because this app provides the opportunity to make money by viewing ads. This business model is already proven to be worthless because you can't make any good money by involving in these kinds of sites. Even we don't recommend the top ad viewing site known as Neobux because you even can't make $10 in 6 months by working in these kinds of sites. So, from our side, we don't recommend this EarnIt ad viewing app.
However, we have found that SilentLabs is at least trying to make some good apps such as their Audio Video Editor app, Previous Year Papers apps, Call Blocker app are getting popular in short period of time. But, that doesn't mean we will recommend EarnIt ad viewing app because it is a waste of time to involve with ad viewing sites. You even can't make decent pocket money by working with ad viewing sites.
Although SilentLabs have some popular apps, still they have provided very less description under EarnIt ad viewing app. Maybe because it is a very new app at the time we are reviewing it. So, maybe they will add some description later. Anyway, either they add a description or not, we don't recommend this EarnIt ad viewing app.
EarnIt To Do List with Rewards – by Jason Ciment
We think you should completely avoid this app because it seems this app has been deserted for a long time. The last update was made back in 2012. After that this app hasn't been updated. People are reporting the problem in this app, they said it is not working as it suppose to be. But, no one is solving those problems or replying to those members. The Jason Ciment hasn't uploaded any other app than this which makes this app more deserted.
You should be always careful if someone has left their app without updating them because those kinds of apps can harm your device when you download them. So, from our side, we don't recommend EarnIt To Do List with Rewards app as well.
Earn It – by Durisimo App Store – The only Good Earn It App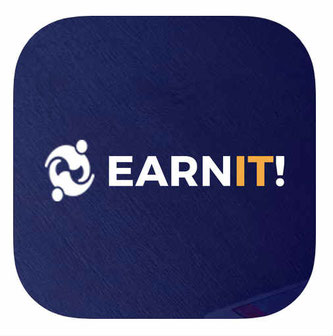 We write the heading of this Earn It App in a big letter because this is the only good Earn It app that we have found. You can find Durisimo App has uploaded this app in Google Play and the seller Domingo Cruz has uploaded this app in App Store. The logo of this app looks as in the picture on the right. So don't confuse with other scam and useless Earn It apps.
So, what does this Earn It app do? What is Earn It app?
This Earn It app is a tool for teachers and after-school staff to incentivize the students and modify behavior. It is especially focused for elementary, middle and high school students.
This Earn It app rewards the students and connects them to an on-site store.
This is an innovative app which can help to create a positive culture within the classroom and encourages students to work collaboratively and do their best and help others. The more description of this app you can find out within the app install section at Google Play or App Store.
The uploader has been updating this app in a timely manner in both Google Play Store and App Store which is once again positive side of this app.
The developer of this app seems very professional and we can say that by visiting their official website which is this one:- durisimomobileapps.com
The concept of this app is good, that's why we like it.
All the users who are using this app seem satisfied. However, we have found some complaints against this app in January 2018. It seems that month it has system error because at that time we have found lots of people complaining that they can't sign up in this app. However, it seems that problem has been fixed already because after January 2018 we have never found anyone complaining about that issue. It has already more than 10,000 downloads just in Google Play Store and that was the only complaint we have found against this app and that is also only in one month, January 2018.
We have found lots of positive reviews about this app than the complaints. So, the volume of complaints is very negligible and not even the serious one which makes us believe that this one is a legit app.
Well, now maybe you feel bad because all the EarnIt apps which claim you can make money by using those apps turn out to be useless and the only Earn It app which turns out be legit is not a platform to make money. Well don't feel bad, here are some recommendations for you to make money online.
There are lots of ways to make money online genuinely
Don't feel frustrated after finding out all the money making EarnIt apps are scams. There are lots of genuine and trusted ways to make money online some of which we have listed within our Good and Trusted Online Works category.
However, if you want to make serious money online, then the blogging is the best platform for that. When we say serious money, we are not saying you will get rich overnight or something like that. You definitely need work for some months in order to make money from your own website because the best way to do the blogging business is by creating your own website in your own subject of interest.
Now maybe you are thinking that the blogging business is too much difficult and need to have lots of technical knowledge. Well, if you think like that, it is not your fault. Lots of scammers are brainwashing people to believe that blogging business is difficult.
But, guess what?
You no need to have any technical knowledge to make a website in your own subject of interest and make money from that. It will be very easy for you if you join an online business training program like Wealthy Affiliate. So, if you are interested to create your own website in your own subject of interest and make money from that, from your own blogging business, then you can join Wealthy Affiliate. In order to find out more details on Wealthy Affiliate, you can click >HERE<
If you want to join Wealthy Affiliate right now, then you can click this link to join Wealthy Affiliate and starting your own blogging business:- https://www.wealthyaffiliate.com/
---
Make your friends and families aware of this EarnIt scam by sharing this Earn It review with them:-
---
If you have to say anything about any EarnIt apps, then please feel free to leave your comment below. You are also welcome to comment if you need any help from our side in relation to online work and business industry. You can also provide your own Earn It reviews. Let's have some friendly conversation.
We will be more than happy to hear from you and help you.
Good Luck!