We think Qjvgviei Top is not a trustworthy online store to do any types of online shopping. So, let's find out what is Qjvgviei.Top in reality through our Qjvgviei Top review here.
It is selling products like Foam Bath Mats Green Dahlia Flower Bathroom Rug, Bath Toys Big Crab, Digital Alarm Clock with Wooden Electronic LED Time Display, 4-Tier Folding Ladder Shelf Storage Rack Shelves, Adjustable Dog Cat Harness Leash Necktie Soft Breathable Mesh Bow Elegant Traction Collar Rope For Kitten Puppy Pet Accessories, Foam Bath Mats Green Dahlia Flower Bathroom Rug, Adjustable Laptop Desk Stand Portable Aluminum Ergonomic Lapdesk, 4-Tier Folding Ladder Shelf Storage Rack Shelves, Wooden Dog Puzzle, Interactive Toy to Increase IQ, Slow Feeder, Dispense Food, Puppy Dog Training Games, etc.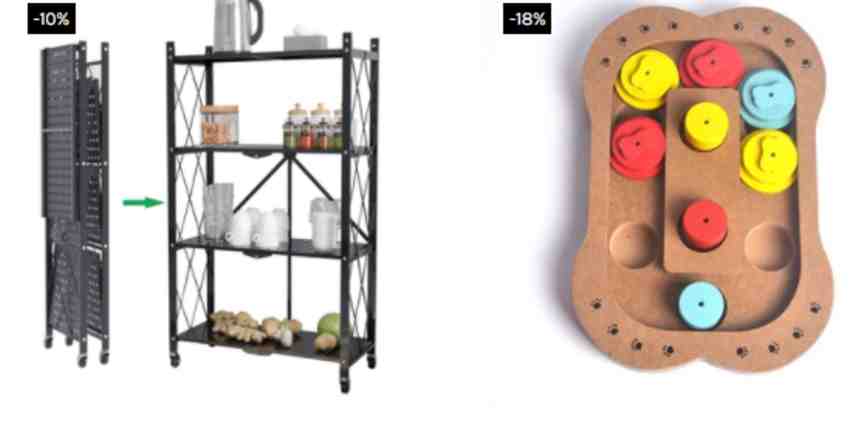 We think Qjvgviei Top is not a genuine site since it has the following drawbacks:-
# It has not provided the company's address and contact phone. Its obvious that legit online stores mostly provide detailed contact information which can be easily verified while scam ones either don't provide any contact details or provide fake ones.
# Lots of details and its website design match with multiple problematic sites selling similar types of products. The legit sites mostly have genuine content, not copy-paste ones.
# It is selling few products by providing the discounted rates. Such discount offers are generally provided by the websites which are not adopting the legit business strategies and hence trying to scam the people with attractive schemes.
# It has mentioned the name of some other website instead of its own on its Contact Us page i.e. Guiguma which is very unprofessional.
# It has provided the fake trust seal logos of McAfee, Norton, etc. on its product details pages. So this site is not secured properly. Hence, your personal and financial details like credit card information might be at risk if you purchase on sites with low-security measures.
# It hasn't provided the social media icon linked to its social media group or page. So, it may not have any social media presence. Legit online stores mostly have a social media presence.
Conclusion:
Due to the reasons we have mentioned above, we conclude that Qjvgviei Top is a suspicious website. However, if you know additional information about this company, then please let us know using the comment section below. We will be more than happy to hear from you and help you to avoid online scamming.
If you agree with our Qjvgviei Top review and want to share this information with your friends and families, then please feel free to share this post with them through your social media accounts.
Please feel free to use the search box on our website to find the review of the site that you are looking for. Or, you can comment below or in any other posts and ask us to check the site. We will be more than happy to help you and save you from scams.
We also recommend you to check other articles under our "Scam Alert!" or "Suspicious" categories so that you will have more knowledge about various kinds of scams and suspicious websites and online activities.
To save yourself from scam online stores, always avoid the sites that are selling items at unrealistic cheap prices. Always verify the contact information provided on the site and avoid the ones without any contact details.
Good Luck!