Favourite.bz Scam Alert! Favourite.bz Review
---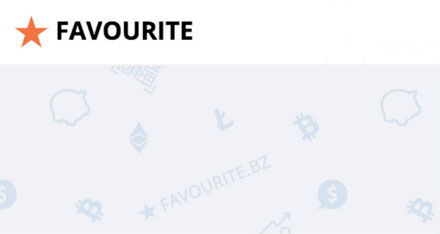 We can say Favourite.bz is a scam site just by looking at it. However, definitely, you want some proofs which support our claim. Don't worry, we are definitely providing you details here within our Favourite review which make you clear why is Favourite a scam. So, you don't have to search any other Favourite.bz reviews to find out the reality of this company.
What is Favourite.bz?
Favourite.bz is a scam website pretending to be a legit investment company which is investing in cryptocurrency market and making a profit from there. However, practically it is not possible because none of the experts in the cryptocurrency market can guarantee the daily 9% return on the investment by investing in the cryptocurrency market.
Ya, when the value of cryptocurrency rises up, few can make more than 9% profit for a few days, but that doesn't happen every day. For example, the value of Bitcoin rises up extremely but now it again bounces back. So, it is hard to guarantee the daily profit by investing in the cryptocurrency market because there is an equal chance of losing and gaining in the cryptocurrency market. But, Favourite.bz is here claiming to pay 9% profit daily by investing the money of members in cryptocurrency market which is a completely bogus claim. Only scam companies can make such claim, none of the legit companies dare to claim such amount of guaranteed profit daily.
Why is Favourite.bz a scam?
Aforementioned, Favourite is a scam because it is lying people. It is claiming to pay highly unsustainable and impossible rate of return. Although it claims it can make 9% profit daily by investing in cryptocurrency, that is practically not possible and on top of that, it fails to show the proof of its investment in the cryptocurrency market.
Favourite.bz is also tricking people to fall into its scam by showing them registration document in the name of Favourite Limited which has been registered from the UK Companies House. However, that registration is not a big deal. In the past tons of scam companies have been already registered in the UK Companies House by providing third-party identities and virtual addresses. In order to find out how the scam companies are registering from the UK Companies House, you can click >HERE<
There is not any investment company with the name Favourite Limited on the registration address that Favourite.bz has provided on its UK Companies House registration document which again proves Favourite.bz is lying out its company location. None of the legit companies will lie about their company location, only scam companies do.
Other than that fake company's location, Favourite.bz hasn't provided any other details about who and from where is operating and running this website. You should never invest money in those online investment companies which hide their owner details and provide fake company's address because only scam companies do such things, not the legit ones.
We don't deny Favourite.bz has paid few members, but still, it is a SCAM
Yes, we agree that Favourite.bz has paid few members, however, in reality, all sites similar to Favourite.bz pay few members at starting so that they can show those payment proofs and lure more people to invest more money into their scheme. This kind of scheme is known as a Ponzi scheme. Legal authorities have already issued the warning to stay away from Ponzi schemes and declare Ponzi scheme as a scam.
So, Favourite.bz is a Ponzi scheme, which means it is an illegal and unsustainable scheme. So, Favourite is a scam. That's why we have listed Favourite.bz within our Bad and Scams category.
Related and Popular Posts:-
---
Please spread the awareness about this Favourite scam by sharing this Favourite review with your friends and families through your social media accounts:-
---
Do you have any queries related to Favourite.bz? Do you want to provide your own Favourite reviews? Do you want to report some scams or want our help in relation to online work and business industry? If so, then please feel free to leave your comment below.
We will be more than happy to hear from you and help you.
Good Luck!