What is Rchange? Is Rchange.net a Scam or a Legit?
---
Update: 5 September 2017:- It's already more than a week that Rchange site has been offline. So, it seems this site has been closed now. But, we just want to know if anyone has lose any money with this site or not because when it was online, it was doing genuine transactions and exchanging the currencies as per the requirement of the client. But, without notification, it shutdown all of sudden. So, if anyone has lose any money from this site, then please feel free to report by using the comment section as below.
Below is our previous review on Rchange where you can find out that from starting we have a doubt on this site and haven't recommended it.
---
If you were searching for the Rchange reviews in order to find out what is RChange.net, either is Rchange a scam or a legit, then you are absolutely in the right place because here, within our Rchange review, you are going to find out the complete truth about Rchange. In short, we want to make you clear that although Rchange is doing satisfactory transactions to exchange e-currencies, then also we don't recommend it. If you want to know why, then you can find the details within our Rchange.net review as below. Actually, we only do the reviews on online works and businesses, means about the companies from where people can make money. The motto of this website is to warn people against scam money making schemes and guide them to work in legit online work companies, such as you can find the list of our recommended online works and businesses by clicking this link:- newsonlineincome.com/legitimate-work-home-businesses/
We don't only list legit online works and businesses, but also rate them according to their performances. For example, Wealthy Affiliate is our top rated company. If you don't know what is Wealthy Affiliate, then you can find the details by clicking this link:- newsonlineincome.com/wealthy-affiliate-review/
But, Rchange is exchanger service. So, why are we doing review on it? It is simply because those who do online works and businesses, they sometime want to exchange money from one payment processor to another payment processor and they always come here to ask us either Rchange is reliable platform for that or not. Not only that, Rchange also provides the opportunity to earn money from its referral program under which members can earn from 5% to 10% of the transaction amount of their referrals who do exchange using Rchange for which they simply need to promote Rchange referrals links and let people to join in Rchange as their referrals. If you don't know how to make referrals in any online work companies, then you can click >HERE<. In Rchange, the amount of commission that you can earn from your referral's transaction volume depends upon with your referral's cumulative transaction amount. Means you will get only 5% commission when your referral's cumulative transaction is less than $999, you will get 7.5% when your referral's cumulative transaction is between $1000 to $9999 and you will get 10% commission when your referral's cumulative transaction exceed more than $10,000.
So, now it is clear why we are doing review on Rchange. So, let's begin with our www.Rchange.net review as below to find out what is www.Rchange.net in real.
---
Rchange login and join in link:- http://www. rchange. net/ (Not applicable, site has been closed now)
---
What is Rchange and why don't we recommend it?
Rchange is one of the e-currency exchanger which is popular, but with unclear owner details. They haven't provided any clear information on who and from where is operating Rchange within their website and also those information is hidden within their WHOIS details. When we ask them, they told us that they are from HongKong, but in their website they have claimed they are Seychelles company. Following are some screenshots of what we talked with them and what they replied to us and what they have mentioned in their "About us" page.
---

---
Above is the screenshot of Rchange's "About us" page where they have mentioned they are Seychelles company, which means from East Africa. But, below you can find the screenshot of our chat with them where they have mentioned that they are from HongKong. But, when we ask them to provide the proof of their address and reveal the owner name, they just denied to provide such information and they also didn't reply when we asked why they have mentioned Seychelles within their "About Us" page. After you read this review, you can try to ask them by yourself about those information. Big payment processor like PayPal never hides their owner details, so why Rchange wants to hide that. If any money transactions related companies want to hide their owner details and location, we should always doubt on those companies. Even you can see their "Contact us" section as below in the screenshot where they haven't provided any address of their company, neither their phone numbers. We believe that the company dealing with money transactions and exchanges should always come upfront with their company details like name of the owner, address of the company and so on because those which are hiding, they are afraid of something regarding their business which is not good for us.
---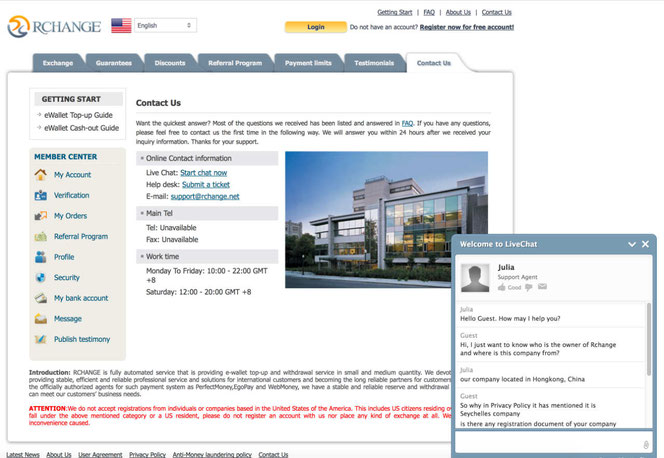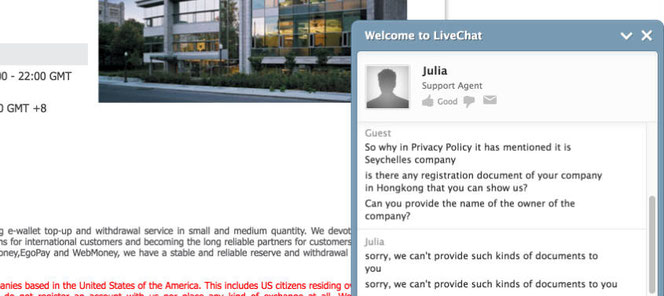 ---
Yep, many people are using Rchange to exchange the e-currencies from their one payment processor to another like from Payza to PayPal or Payza to Perfect Money or Solid Trust Pay to Payza and so on and also satisfied with its service. But, still there are also some complaints from the people against it about which you can find in the screenshots as below.
---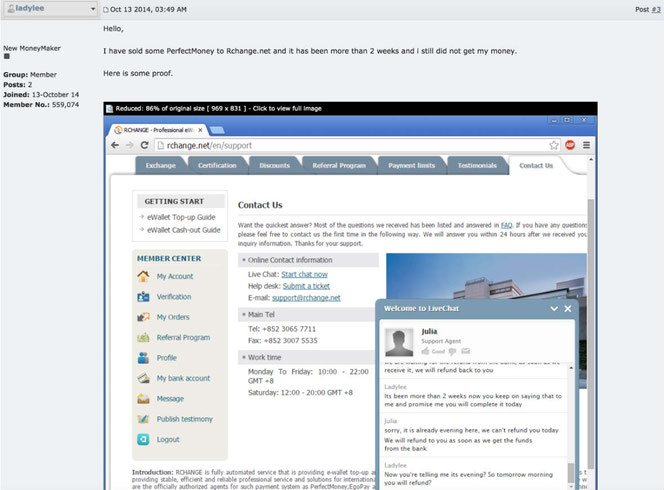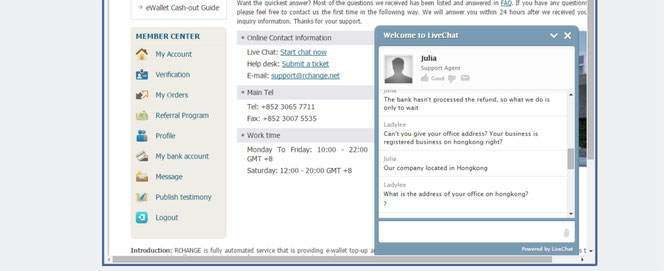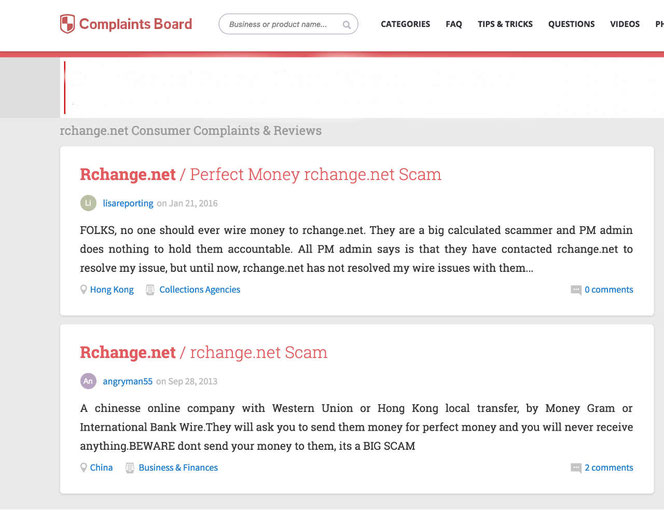 ---
However, may be the above complaints have been already solved by Rchange or may be not because we only find such complaints but not any response from Rchange to defeat those complaints. Anyway, comparing with amount of complaints, the amount of satisfied customers are more in the case of Rchange which is good.
Rchange is also a recommended exchanger by the payment processors like SolidTrustPays, Payza, PerfectMoney and so on. But, payment processors like Payza, PerfectMoney, SolidTrustPays have their own problems. You can find the problems of Payza within our detail review on Payza by clicking >HERE<. More than that, even Rchange use to be the authorized exchanger for EgoPay which has been already turned into scam. It's now almost 2 years that EgoPay has been turned into scam and Rchange still has mentioned it is authorized agent for EgoPay within its website which you can find in the screenshot as above. So, if some website is not updated on timely manner, then we should know that the owner of that website hasn't too much concerned for his/her website which is also not a good sign. On the other hand, Rchange is not the recommended exchanger of reputed payment processor like PayPal. Actually, none of the reputed payment processors like PayPal ever support exchanger services like Rchange because there will be high risk of money laundering through these exchangers.
Conclusion
Although Rchange is providing satisfactory service to its client, then also we don't recommend it simply because we don't trust the company which owner details are not clear and whose business involve the transactions which are not categorized as legal. Rchange is doing exchange service through PayPal and Bank Wire as well, but it is not recommended by PayPal neither by any bank which means its transaction with PayPal or those banks can have problem anytime in the future. So, there is a risk involve to use the exchanger service like Rchange. So, we don't recommend you to use any such exchanger services or promote those to get referral's commission. But also if you don't have any other option than using exchangers, then you can use Rchange, but at your own risk. At least don't exchange the amount more than you can't afford to lose at one time transaction and try to avoid exchanging with reputed payment processor like PayPal otherwise you may end up suspending your PayPal account. After reading our review on Rchange, if you have decided to use it to exchange your e-currencies, then you can join it by clicking this link:- https://www. rchange. net/ (Not applicable because site has been closed now)
---
If you want to share this Rchange review with your friends and families, please feel free to do so :-
---
We love to hear from you. So, please feel free to leave your comment below if you have to say anything about www.rchange.net or want our help in relation to online work industry.
We will be more than happy to hear from you and help you.
Good Luck!