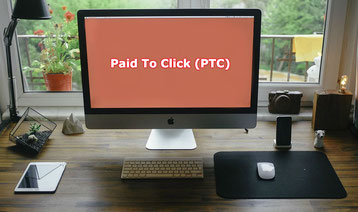 Are you looking to find out what is a PTC site and how it works? If so, then you are absolutely in the right place because here we are providing the complete definition of PTC. Not only that, but we are also providing the name of top online work company which is not a PTC site, but is one of the best solutions to make money online on a regular basis. OK, now first of all let's find out what is PTC site and how it works.
However, before we begin with the details on PTC sites, we want to make you clear that we don't recommend any PTC sites form our side because there is 99% scam PTC sites and those which are good, from those also it is very difficult (almost impossible) to earn a good amount of money. So, we don't recommend any PTC sites.
What is a PTC site? – PTC Site Review
The full form of PTC is Paid To Click, some people also know it as Pay to Click which is one of the popular home-based online work. Actually, it offers you to click the advertisements and view them. You will be paid small money for clicking and viewing each ad. Once you join the PTC sites, you will find the multiple numbers of ads to click and view which takes from 3 to 60 seconds for each ad and you will earn the equivalent money that they have quoted to view those ads. It doesn't require high skill, if you have basic computer and internet knowledge, then you can easily do this work. It is one of the very easy online work.
However, like it is easy to work, in the same way, it is very hard to earn money from PTC sites and for the advertisers who want to advertise in PTC sites, they also don't get good results because the traffic quality that they get from PTC sites are very bad because people view ads in PTC sites only to earn money, not because they are interested in those ads. On the other hand, it is hard to make even a $10 per year by working in PTC sites and some PTC sites, even the established ones sell the BOTs in the name of rented referrals and scam people by luring them to increase income by renting referrals, but at the end instead of earning from those rented referrals, most of the time people lose their invested money in those rented referrals because the PTC sites provide inactive rented referrals. Actually all those rented referrals are fully controlled by themselves. So, in that sense even we can say almost all PTC sites are scams, especially the ones which offer rented referrals. So, we don't recommend anyone to work or advertise PTC sites.
Requirements to work with PTC site
There is not any special requirement in order to work with PTC sites. You just need a personal computer or laptop with an internet connection, email accounts like Gmail, Yahoo, etc., personal payment processor account such as PayPal, Payza, Bitcoin Wallet, Solid Trust Pay, Perfect Money, etc. It depends upon different PTC sites, but most of them offer Payza and even recently PayPal changes their rule due to which it is now hard to find the PTC sites which offer PayPal.
Final Verdict on PTC sites
Like we have mentioned as above, it is a waste of time to work in PTC sites because the earnings are very low that you even can't earn $10 per year on your own by working in most of the PTC sites. Yep, every PTC sites provide the referral earnings. But, most of the time, your referrals won't be active after some days they join PTC sites because when they find out it is very hard to earn from PTC sties, they just leave the PTC sites. Some PTC sites lure the people by showing the rented referrals options. However, the earnings from rented referrals always go opposite of what PTC sites show to us. More than that, most of those rented referrals are just BOTs which can be easily controlled by the admin of PTC sites. So, instead of earning from rented referrals, in the end, you will always lose money. That is why we don't recommend anyone to work in PTC sites.
Top Online Work Company to Established Full Time Online Income regularly
---
Please feel free to share this post about PTC sites with your friends and families.
---
We love to hear from you. So, please feel free to leave your comment below if you want to share some more details about PTC (Paid to Click) sites or want our help in relation to the online work industry.
We will be more than happy to help you.
Good Luck!