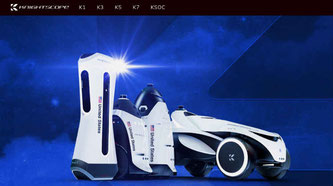 Knightscope is definitely not a scam. So, we don't need to be worried on that part. This company has been on the news of many reputed news channels like BBC, CNBC and so on. However, when it comes about investing in share, it's not enough to see either that company is a scam or legit because there are lots of factors which can make us lose our investment by investing in shares.
OK, we will discuss either we should invest in the share of Knightscope or not later in this post. First of all, let's have some brief Knightscope review to find out what is Knightscope.com.
---
Popular and Related Posts:-
---
What is Knightscope?
Knightscope is a company which design, manufacture and deploy Autonomous Data Machines and Systemes (ADM) which is used for security purpose. Those machines are used to monitor crimes in malls, parking lots, logistics facilities, manufacturing plants, property managers, corporate campuses, residences, hospitals, stadiums, airports, casinos, warehouses and so on. The company has claimed that these machines will be very useful to prevent future crimes.
Knightscope has claimed that its robot has helped law enforcement to issue an arrest warrant for a se*ual predator, has helped a security guard to catch a thief in a retail establishment, has helped to stop a fraudulent insurance claim, has helped to catch an armed robbery suspect, has helped to eliminate vehicle break-ins and so on. So, now you must have an idea what is Knightscope and what its product ADM do.
The reputed companies like Microsoft, Uber and so on are already using the products of Knightscope for their security purposes. Knightscope rents out the machine for $7 an hour which is definitely a very low cost comparing with what companies have to pay for security guard in the USA.
However, the robot created by Knightscope doesn't fight back against humans but it can detect the sounds such as car honking, people screaming, glass breaking and so on, can scan up to 300 licenses plates per minute and so on using its lasers, thermal camera, GPS navigator and so on. Whenever this robot senses criminal activity, it alerts human authorities. So, it is like giving a security guard the superhuman eyes and ears. So, it is not to replace the security guards completely but to make their work more efficient. It is like humans and robots working together to prevent the crime. However, definitely, it will replace some numbers of security guards.
Is it safe to invest in Knightscope? Pros & Cons of Knightscope
Now, this is the tricky question. If we consider investing in Knightscope only by thinking either Knightscope a scam or a legit, then definitely we can blindly invest in this company because it is a legit company.
But, let's think again. Do every legit company make a profit? Does the share of every legit company rise?
Of course not.
So, how can we be sure that our investment will be secure and we will make a profit and we won't lose any money by investing in Knightscope's share? Well, we can't be sure about that.
Knightscope is a very innovative company with completely new technology. But we never know this technology will be accepted by the society in the future or not.
Its seed share value was $0.33 per share which is now $8. So, early bird has already made money. But, did the value of this share will increase in the future? Well, that depends upon the performance of the company's product. So, let's talk about the sales number and the performance of Knightscope's product.
It has only sold its products to a few companies which is definitely not enough to make a good profit. Many people still don't think its product line is very useful.
BBC has reported that even one time its robot has been found to drown inside the fountain water. However, its robot has meant to be providing security features by running smoothly with its sensor. So, if it has been fallen into the fountain, then that means there is still some fault in its product line. However, we are not a technical person to go deeper on this issue. But, we believe the advanced technology robot should not be drowned in the fountain by itself.
Not only that, one time it has also found to be running over 16-month-old child, left with swelling to his right foot. However, the company has explained that was not the fault on its robot's side. Well, either that was the fault of a robot or not, but if its robot keeps on running like this, then definitely people will start to hate these machines. No one likes the machine that does any harm to human beings.
People have also concerned about their privacy protection. These Knightscope's robots are using in public places and they are taking videos and pictures of people without their consent. These robots also can monitor the conversations between the people. So, people are worried about their privacy protection around the area with these robots as everything there will be monitored and record.
People are even criticizing that these robots are spying on them more than protecting them. Even people have concerned about the ability of these robots to prevent crime because although these robots sense the suspicious activities, these robots can't stop those crimes or arrest criminals or stop attacks and so on.
So, considering these facts, it seems the products of Knightscope still need to be improved.
In order to make any company's share profitable, the sales of the product should go skyrocket which seems difficult in the case of Knightscope as still it is unable to sell its product in a good volume and lots of people are criticizing and disliking it.
Knightscope is a private company. So, its stock is not freely tradable. It has claimed that the company has filed certain periodic reports with the SEC under Regulation A of the Securities Act of 1933, which are available on the EDGAR website and which provide additional information about the company, including its financial statements.
Now here is another risk to invest with such company because such kind of share can't be readily transferred or resold. There is no market or liquidity for these shares and it does not seem that the company has any plans to list these shares on an exchange or other secondary markets anytime soon. At some point, the company may choose to do so, but until then you should plan to hold your investment for a significant period of time before a "liquidation event" occurs. A "liquidation event" is when the company either lists their shares on an exchange, is acquired, or goes bankrupt." So we don't find it is promising to raise money on crowdfunding. When there is no market for the investment and just have to sit on it for potentially years and hope that it goes public or bought is really a risky thing.
So, now you find out what we think about investing in Knightscope. However, we definitely like to have a discussion with you guys about investing in Knightscope. So, please feel free to leave your comment below to have some discussion on this topic so that we can be more clear either it's a good idea to invest in the share of Knightscope or not.
---
Please feel free to share this post with your friends and families through your social media accounts so that whoever wants to have the conversation about investing in Knightscope can place the comment here:-
---