Click to rate this organization, product, or online activity!
What is Cyber Wage? Is CyberWage a Scam or a Legit?
---
Are you searching for the Cyber Wage reviews in order to find out what is CyberWage.com, either is Cyber Wage a scam or a legit and so on? If so, then your search ends here, because, through our Cyber Wage review, you are going to find out the complete truth about Cyber Wage so that you don't have to search any further CyberWage reviews in order to find out its reality.
Actually, we have listed CyberWage.com within our Not Recommended sites list because it is not a good company. If you want to know why then you can find the reason within our CyberWage review below. But, after finding out the fact that Cyber Wage is not a good company, if you don't want to find out more details on it, but instead want to find out the list of legit online works and businesses, then you can find that by clicking this link:- newsonlineincome.com/legitimate-work-home-businesses/
Among those good and trusted online works and businesses, Wealthy Affiliate is our No.1 recommendation about which you can find the details by clicking this link:- newsonlineincome.com/wealthy-affiliate-review/
OK, let's begin with our CyberWage.com review in detail to find out what is CyberWage in real and why we don't recommend it.
---
---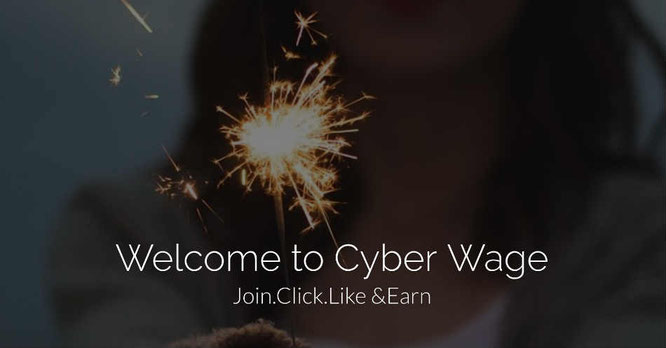 ---
What is CyberWage.com and why don't we recommend it?
Cyber Wage is a site where members can earn money by viewing ads. It claims to pay $0.2 per ad view which takes only some seconds to complete. It also guarantees to provide 4 such ads per day and more for upgraded members. However, it is not a sustainable business model because this kind of businesses are online from the decade and every time when these kinds of sites offer minimum 4 ads each day with $0.2 per view rate had always turned into scams. The sites which followed this kind of business model either don't pay from the beginning or stop paying after some months. The maximum period of time that this kind of business has sustained is up to a year, that's it.
Another drawback of this site is a huge cash-out limit which is $40. None of the legit sites with the same kind of business model will put such high cash-out limit because at the rate of $0.2 when you view 4 ads a day, you will only earn $0.8 per day, which takes 50 days for you to reach the minimum cash-out limit. It is just the strategy of these kinds of sites to make people engage in their website for a long time so that even if they don't pay the members, then also at least members will engage in their site for 50 days.
In order to make this kind of business model sustainable, there should be the advertisers who are willing to pay more than $0.2 per visit to their website. But, none of the advertisers can get any benefit by paying such amount to advertise in these kinds of sites. Even many reputed affiliate programs are not allowed to advertise in these kinds of sites. So, it will be hard to find the advertisers for these kinds of sites due to which these sites start to depend upon the upgrade fees and show their own sponsored ads and if it unable to find enough members who pay to upgrade their account, it will start to lose money and ultimately collapse. This is the major factor why this kind of business model can't sustain in reality.
If you check the official website of Cyber Wage, you will not find out any information about who and from where is operating the website. That information has been also hidden within a WHOIS detail. In online work industry, if the sites like CyberWage hide their owner details, then there are only two reasons for that and those are either because the owner of those sites has linkage with other scam sites or has the intention to scam form his/her current site. So, either way, it is not good for us to involve in such sites. That is why we don't recommend CyberWage.
---
Please feel free to share this CyberWage review with your friends and families to let them know its reality:-
---
We love to hear from you. So, please feel free to leave your comment below if you have to say anything about Cyber Wage or want our help in relation to online work industry.
We will be more than happy to hear from you and help you.
Good Luck!
Click to rate this organization, product, or online activity!