Click to rate this organization, product, or online activity!
Plug in Profit Site Review, Is Pluginprofitsite Scam or Legit?
---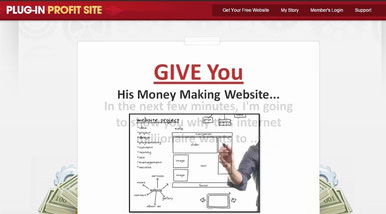 Pluginprofitsite was registered at 2002-12-02 and its owner is Stone Evans. Ya, it is old company, but it is not legit. However, we don't mean it is Scam as well because some people had earn money from this system. But, that is very rare case and overall more than 99% members haven't make any money from it. Instead, more than 85% members had lose money after working in Pluginprofitsite. So, we don't recommend anyone to work in Pluginprofitsite. We know that may be some of you are thinking how can people lose money in this system when the system is totally free to join.
OK, let us make you clear. This program only look like free, but it is not. Actually even it is not an independent money making program. This program is actually made by Stone Evans to market his affiliate link of other programs in which you need to join so that he will get commissions from those programs. In that way he is earning from this program. He promise you to give free money making website after you join those five other online work companies under his affiliate/referral link. But, in order to be active and earn money in those five companies, you need to pay money and even sometime he refer you to join some scam companies. He always change those list of five companies because when one program turn to be scam, he again join another new program and let you join in that. Like this way he is earning money by making many referrals and affiliates in other companies under his link.
He will say that you can join those programs for free. Yep, that is true. You can join them free, but in order to be active in those programs, you must make a payment, otherwise you can't remain active and if you don't become active, you will not get your that money making website which he promise to provide you.
If you do work in all of his recommended programs and remain active by paying require membership fees in those programs, then you will receive free website from his side. But, that website doesn't grantee you will make money as he claim you. He will tell you that your website will earn later, but that later comes when, no one knows. Even you earn from that website, then also that website will be totally under his control and you can't be the real owner of your own website.
---

---
Conclusion about Pluginprofitsite
If you join this program, you may get money making website as he claims to give you, but before that you will already lose lots of money to be active in his recommended programs and even there are many proofs that majority members didn't make money from this system even after they get their website. More than that, you will never get control over your own website and he can manipulate your website anytime. Even if he remains honest, then also your website will die when he want to leave this online work. So, why depend on him to make website for which you have to pay more than you need to pay to make any good quality website and even you will not get full ownership of your own website. So, it is better to join a company such as Wealthy Affiliate which will teach you to make good quality website on your own even in free of cost. You will also get training to make more high quality website in very reasonable cost, much more less than what you will invest in PluginProfitsite. More than that, if you work with Wealthy Affiliate, it is guaranteed that you can make real income whereas it is not guaranteed that you can make money from website which you get from Pluginprofitsite. So, we don't recommend you to join Pluginprofitsite. However, if you are still interest to make money from your own website, then you can check our detail review on Wealthy Affiliate by clicking this link:- newsonlineincome.org/wealthy-affiliate-review/
Please feel free to leave the comment below if you want to report anything about Pluginprofitsite or want to give feedback to us or need any help related with online work industry. We are happy to help you.
Click to rate this organization, product, or online activity!