Click to rate this organization, product, or online activity!
OnSales.Sale Review: OnSales.Sale Scam Alert!
---
Beware of On Sales because OnSales.Sale is a scam online store. Now you definitely want to find out why is OnSales.Sale a scam, what makes On Sales a scam, what is On Sales Sale in real, right? Well, to find out the answers to these queries, you don't have to search any other On Sales reviews because here, within our On Sales review, you are going to find out the complete truth about this online store. So, without any further delay, let's begin with our On Sales Sale review.
What is OnSales.Sale? Why is OnSales a scam?
On Sales Sale is a scam online store because it is run and operated by the cybercriminal who has already scammed lots of money from various people from similar kinds of sites. Actually, there are lots of proofs we have mentioned below which prove On Sales is a scam.
---
Related and Popular Posts of Our Website:-
---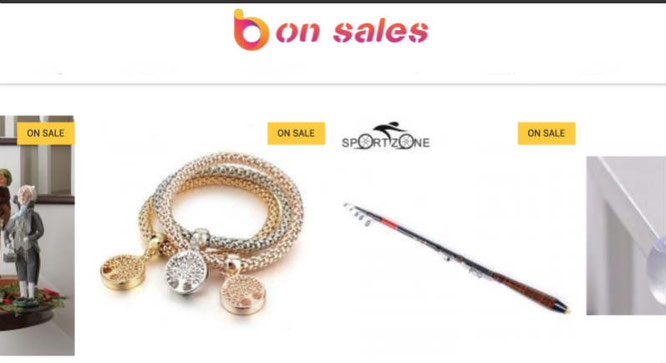 On Sales website link:- OnSales.Sale (Not recommended to join or purchase items, it's a scam)
---
OnSales.Sale is a fraudulent website due to the following reasons:-
# "2.27 Romer House Lewisham High Street, London, England, SE136EE" is an address which OnSales.Sale has provided on its "Contact Us" page. However, that address has been used by multiple scam sites. The phone number "852-66282369" which OnSales.Sale has provided on its "Contact Us" page has also been used by multiple scam sites. So, obviously, this site also belong to the same scammer who is operating and running those multiple scam sites.
# Providing the address and phone number that belongs to other multiple websites and not providing any details about its link to those websites prove that it is a site which has been made up quickly by copy-pasting from other sites.
# It hasn't revealed any detail contact information and has also concealed its owner's name and company's address within WHOIS.
# The contact email address which it has provided on its website is "support@cpjus.com" which is an email address belong to the big scam site known as CPJUS. So, this proves this site has been operating by the same cybercriminal who scammed lots of people from CPJUS.
# The trust seals which are provided on OnSales.Sale are all fake ones because none of them are clickable. However, the real trust seal logos will be always clickable so that we can click on them which will direct us to the official website of those trust seal providers to verify them.
# OnSales.Sale claiming to sell lots of items on a ridiculously cheap price which is almost impossible for any legit website to sell.
# You can find multiple scam online-stores these days. Some of the scam online-stores which we have already reviewed are Setcoming, Auate, Eaomc, WarmJean, EceShops, YeahSaveVIP, EccoBlackFriday, CybermanKind, HobbiLaunch, UbootDeal, BoseEShops, FGVips, Rbeall, Wowm, MusicEnjoyStore, ShopByHot, Eccoemall, OutdoorsWell, TheTrendyDealStore, FineFurnitureu and so on.
Now you become clear that OnSalesSale is a scam, so we have listed it in our Bad and Scams category.
These kinds of scam online stores deceive people by not delivering them their purchased items or delivering them a very cheap quality as well as damaged items which will be completely different than what they have advertised on their websites.
Some of these scam online stores even have stolen the money of the clients by charging their credit card randomly without their consent. So, if you ever have mistakenly made a purchase from the scam online stores, we suggest you immediately contact your bank or credit card company to secure your credit card and save your money.
---
Please feel free to share this OnSalesSale review with your friends and families through your social media accounts to make them aware of this On Sales scam:-
---
Do you want to say something about OnSales.Sale or want to provide your own OnSales.Sale reviews? Do you need our help in relation to online work and business industry or to investigate online businesses? If so, then please feel free to leave your comment below.
We will be more than happy to hear from you and help you.
Good Luck!
Click to rate this organization, product, or online activity!