Click stars to rate this organization, product, or online activity!
InstantWorking is a Scam, 100% Sure
---
Beware of InstantWorking because InstantWorking.com is a scam. So now you already got the answer either is InstantWorking a scam or a legit. So, your search for InstantWorking.com reviews to find out either is InstantWorking.com a scam or legit ends here. However, now maybe you want to know why is Instant Working a scam, what is InstantWorking.com in real. If so, then also you don't have to search any other InstantWorking reviews because here, within our InstantWorking review, you are going to find out the reality of this company. So, let's begin with our InstantWorking.com review.
What is Instant Working? What makes InstantWorking a scam?
Instant Working is a site run and operated by the serial scammer who always opens the similar kinds of scam sites with exactly the same business model. Network44Online, MyEasyJobOnline, PayJut, ThePocketMoneyOnline, Income4Tasks, ThePayz, ForMoneyOnly, JobZipo and so on are some examples of those scam sites. Previously the website theme and website script of these sites use to be almost the same. But now it seems this scammer becomes clever because he has now made completely different website theme but we can still find out InstantWorking is a site from the same serial scammer because the business model of InstantWorking is exactly same as those other scam sites. InstantWorking hasn't paid to anyone yet and neither will pay in the future because its business model is completely bogus. All these kinds of similar scam sites have never paid to anyone. So, this proves Instant Working is a scam.
Never fall into these easy money making sites because almost all of these sites are scams. In order to make money online, you must work. Legit companies never claim to pay you money so easily like Instant Working is claiming. If you are looking for the genuine and trusted companies to make money online in real, then you can click >HERE<
---
---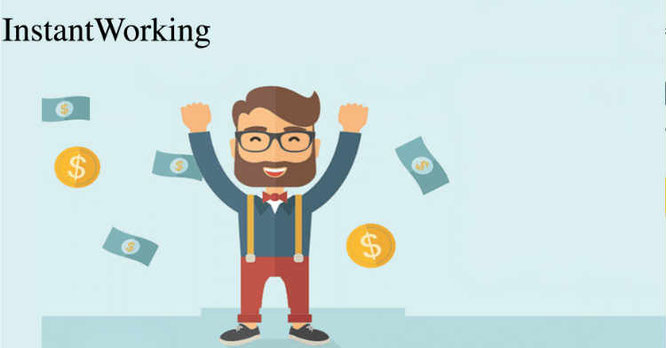 InstantWorking login and join in link:- InstantWorking.com (Not recommended to join, it's a scam)
---
InstantWorking is a fraud company. Stay out of it
Aforementioned, we already made you clear that InstantWorking is not paying to anyone so that already makes it a fraud company.
Instant Working claims to pay $10 for every unique visitors that click on the referral link for which members only need to copy paste their referral link in different forums, blogs, chat rooms, social media sites like Facebook, Twitter, Google+ and so on. However, anyone can advertise their website link on social media sites like Facebook at the rate $1 per 25 to 50 clicks. So, paying $10 per one click that they get from the social media sites like Facebook doesn't make any sense and itself proves that InstantWorking is not here to pay anyone. None of the companies can make any benefit by paying $10 per website visit.
Like other similar kinds of scams, InstantWorking also has concealed its owner's name and address. Of course, because his/her intention is to scam people so why he/she will come up front. In the online work industry, we should never believe any company which hides their owner information because none of the legit online work companies hide their owner information.
All the InstantWorking payment proofs that you can find out are fake, none of them are real.
Now, it is clear that InstantWorking is a scam, so we have listed it in our Bad and Scams category. So, now maybe you want to find out the genuine and trusted online work companies. If so, then please click >HERE<
Although we have listed several kinds of genuine and trusted online works and businesses, our No.1 recommendation to make money online is Wealthy Affiliate from where you can learn to make your own website in your own subject of interest and make money from that very easily without having any technical knowledge. If you want to find out more details on Wealthy Affiliate, then please click >HERE<
---
Please spread the awareness about this InstantWorking scam by sharing this Instant Working review with your friends and families through your social media accounts:-
---
Do you want to share anything about InstantWorking? Do you want to provide your own Instant Working reviews? Do you need our help in relation to online work and business industry? If so, then please feel free to leave your comment below, we will be more than happy to hear from you and help you.
Good Luck!
Click stars to rate this organization, product, or online activity!