Click stars to rate this organization, product, or online activity!
What is Start Miner? Is StartMiner a Scam or a Legit?
---
First of all we like to make it clear that neither we are affiliated with Start Miner, nor promoting it. So here, within our StartMiner review, you can find the real truth about StartMiner.com. Here, you will find out all the answers of your queries such as, what is StartMiner.com in real, either there is any StartMiner complaints or not, either is StartMiner Ponzi Scheme or not, either is Start Miner scam or not, either is the business model of StartMiner legal or not and so on. If you want the short answer on these queries, then the straight forward answer is that we have listed it within our Not Recommended sites list, means we don't think this site will sustain for long run because we have found lots of warning bells against this site about which we are going to explain in detail within this review. Actually, in order to recommend any online work companies, we always consider many factors such as, the business sustainability, the business legality, the owner background, company claims and testimonials are real or not, the numbers of years business is running, complaints against companies and so on. For example, you can take a look at our recommended online work companies list so that you can find out yourself what kind of companies we have recommended, for that you can click this link:- newsonlineincome.com/legitimate-work-home-businesses/
By considering all factors like we have mentioned before, we have recommended Wealthy Affiliate as a No.1 Online Work Company. If you are interested to find out more details on Wealthy Affiliate, then you can click this link:- newsonlineincome.com/wealthy-affiliate-review/
---
---
OK, now let's begin with our Start Miner review as below in order to find out what is StartMiner in real.
---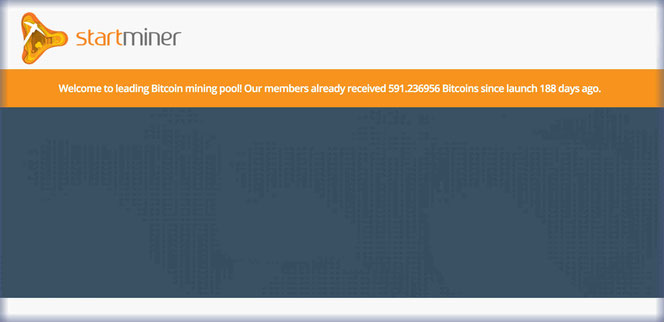 StartMiner login and join in link:- https://www.startminer.com/ (Not recommended to join)
---
What is StartMiner.com? Why we don't recommend it, find the reasons below
StartMiner is so called Bitcoin Mining pool claiming to have a physical miners. But, in the reality, Start Miner is a Ponzi scheme which doesn't have any real contact and owner details. If you check the WHOIS details of www.startminer.com, you will find out that startminer.com has registered by hiding its owner details and address completely. In their website within "contacts" section, you will find out they have provided address as 20-22 Wenlock Road, London, England, N1 7GU. But, if you check this address, then you will find out that this address has been used by many other companies, mostly scam companies because it is just a virtual address which anyone can rent from virtual office address provider company such as, londonpresence.com
More than that, take a look more closely at the screenshot as above which we have taken form the StartMiner home page today (25 March 2017) where they have mentioned that they have already paid 591 Bitcoins since launch 188 days ago. If you check the WHOIS details, you will find out that startminer.com was just registered in 11 March 2017. So, that means it is only 14 days old when we are writing this review and they are claiming that they are online from 188 days within their home page. Another fake claim.
StartMiner is registered in UK Companies House where anyone can registered company very easily even with virtual address just paying 20 GBP. If you check the UK Companies House details, then you will find out that the address which StartMiner is using has been used by 36,043 other companies till date, lol. More than that, the same kind of company known as Bitminer.eu is not only using the same registration address that StartMiner is using, but also using same company number 09951039 and registration documents. So, now it is clear that all company address and information which they are providing is completely fake. More than that, a legit cloud mining company must have a public cryptocurrency address in order to participate in the mining process. If some company is not disclosing their public cryptocurrency address, then you should know there is not any legit reason to hide that.
In their website they have only mentioned that their data centers are located in Europe, USA and China and that's all. So, if you believe only on that information and fall for that and invest money there, then it is your own fault as well. In order to confirm any mining company is legit or not, you should find out they are really mining in some physical location or not. But in case of StartMiner, even they haven't provided the physical location of their own company, so physical location of their mining is far away thing.
OK, now some of you may be argue with us because they have also provided opportunity to earn 0.0006 BTC per day without investing money. So, why would they do that, can you guess? It is simple because if you find out that you can earn money without investing, then sure you will believe them and want to earn more for which you will invest money into it. It is just like showing lollipop to the child. At least 95% of its members will invest money, after all they have claimed that they can pay 1 BTC everyday if you invest 5 BTC. So, they will keep on monitoring the money coming into their system versus the money that members are withdrawing. Till they earn profit, they will keep on paying and when they feel the withdraw amounts start to become more, then they slowly start to make stories, and completely stop paying and run with existing money.
Let's find out the funny part by observing the screenshot of their website as below.
---

---
Now may be you are thinking what is the funny part. See that cartoons, they are laughing at you for investing money in their company and for more big amount of investment, they have worn more big glasses which can hide their face, lol. Well, this is not the factor that we are considering to list this company within our Not Recommended list, but just being funny in the middle so that you will not feel bore.
OK, actually in real we don't want to make you too much bore. We think this much information is already enough to prove that StartMiner is not a sustainable company. If some company can pay you back 1 BTC everyday just by investing 5 BTC, then you can think yourself how much profit you can make in a month and how much profit that company need to make to pay you that much amount. Any local bank will be interest to invest money in such company in much more low rate than what they are offering to their investors if their business is real a legal one.
Even after knowing the truth, many people still work with this company because they just don't care how long they can earn, they just want to make money till it pays and more than that, they want make affiliates in this company and want to earn commission by letting innocent people to invest in this company. After all company owner is not the only scammer in this world, right?
Conclusion
Actually, we can write much more details about Start Miner in order to prove it fake. But, we think what we have mentioned above is already enough to prove it fake, right? So, we have listed it within our Not Recommended list. But also if you still want to jump in it, then go ahead, we only can pray for you. However, if you believe us and want us to recommend you some online work companies, then first of all you must know the fact that in any legit online work companies you need to work in order to earn money, not just invest and sit back. So, if you are ready to work, then you can find the list of those recommended companies by clicking this link:- newsonlineincome.com/legitimate-work-home-businesses/
Like we have said before, among all recommended online work companies, Wealthy Affiliate is our No.1 recommendation, for details click this link:- newsonlineincome.com/wealthy-affiliate-review/
---
Please feel free to share this StartMiner review with your friends and families in order to warn them:-
---
It's our pleasure to have a comment from you. So, please feel free to leave your comment below if you have to say anything about www.startminer.com or want to provide us some suggestions or feedbacks.
We will be more than happy to hear from you and help you.
Good Luck!
Click stars to rate this organization, product, or online activity!