Click to rate this organization, product, or online activity!
Nike Modeling Application On Instagram – Scam or Legit?
---
You must be here because you found post about "Nike's Undercover Modeling Recruitment", "Modeling for Nike" or "Nike Modelling Application" on IG or on other social media sites which claims "Nike is looking for models in between the ages 11-21" and want to find out either this is post is real or fake, right? Well, we don't think it is a genuine post due to the reasons we have explained below.
NOTE: Some people may claim here that the correct spelling is "Modeling". However, we have here written both Modelling and Modeling since it will help to find this post by both people who type either Modelling or Modeling. Actually, both spellings are correct since Modelling is British English.
First of all, this Nike Modeling Application hasn't been posted on the official social media page or on the official website of Nike. This makes clear that Nike is not involved in it. So, if you find any post which appears to be Nike Modeling Application and has mentioned "We Are Looking For Models 11-21 To Represent Nike In Displaying Our New Seasons Of Clothing And Footwear For 2020!", then you must know that is a fake post.
---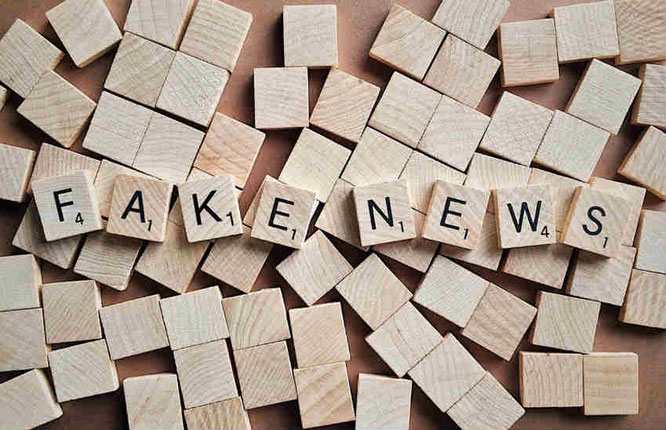 ---
We think "Nike Modelling Application", "Nike's Undercover Modelling Recruitment" or "Modelling for Nike" is fake news due to the following reasons:-
Aforementioned, we didn't find anywhere official announcement from Nike about Nike Modeling Application or Nike Undercover Modelling recruitment. If Nike is really looking for models, it should announce it on its official website or on its official social media pages. So, this already makes clear that "Nike Modeling Application" is just a bluff from some random people.
If you believe this bluff and only share it, then that won't harm you. But, if you believe it extremely and follow all the instructions provided on these kinds of posts, then you may end up becoming a victim of a scammer/cybercriminal.
Sometimes these kinds of social media posts are only a bluffed which won't harm anyone, but sometimes there may be some scammer/cybercriminal doing it. Of course, the motive of scammers is always to scam you, to make money out of you.
These kinds of cybercriminals make money by selling your personal information which you may provide to them when they ask for it. Once you contact these cybercriminals, the first thing they ask you is to send them your personal and financial information. Once they got your personal and financial information, they may sell that to third parties and make money from that. On top of that, they will also try to hack your financial information to steal your money.
These cybercriminals won't stop there. They will also try to trick you further to steal your money. For example, they may ask you to send some fees to complete the application process.
Never provide your credit card information to these kinds of cybercriminals. Once cybercriminals find your credit card details, they will keep on charging your credit card randomly until your credit card runs out of money. So, if you have already provided your credit card information mistakenly to these cybercriminals, we suggest you immediately contact your bank or credit card company and tell them to cancel your credit card and provide you the new one.
These kinds of posts may also contain some links to click there. Never click those links or download files from the websites which you may land by clicking those links because those websites or download files may contain some malware or virus which can harm your device or even can hack your device to get your personal information.
Actually, you should not follow any instructions provided in such scam posts. Instead, you should just delete them.
Below you can find an example of fake Nike Modelling Application circulating on Instagram:-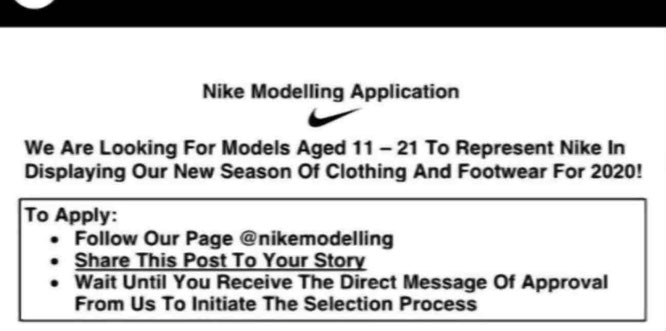 ---
Now you know about the fake "NikeModelling Application" post on social media sites. So, if you want to make your friends and families aware of these kinds of scams, then please feel free to share this post with them through your social media accounts:-
---
It will be our pleasure to hear from you. So, please feel free to leave your comment below if you want to report about Phishing posts or messages (reports with the sample of Phishing posts or messages will be more better). You can also comment below if you have any queries related to the online work and business industry. We will be more than happy to help you and hear from you.
Good Luck!
---
Related and Popular Posts of NOI (News Online Income):-
Click to rate this organization, product, or online activity!