ATIShares Scam Alert! ATIShares.com Review
---
Beware of ATIShares.com scam investment platform which claims to pay you up to 1.25% daily profit forever on your investment amount. ATIShares.com is a scam because its business model is completely illegal. It follows a Ponzi scheme which is neither legal nor sustainable.
How do we know that ATIShares is not a legit company?
If you want to know why is ATI Shares a scam in detail, then let's begin with our ATIShares review so that you can find out why is ATIShares.com a scam, what makes ATIShares a scam, how can we confirm ATI Shares is a Ponzi scheme and what is ATIShares.com in real. So, let's begin with our ATI Shares review.
---
ATI Shares login and join in link:- ATIShares.com (Not recommended to join, it's a scam)
---
ATIShares.com is a fraudulent business due to the following facts:-
Yes, we know the fact that ATIShares has paid to some members. However, that doesn't make it legit because every Ponzi schemes pay few members at starting in order to show the payment proofs so that they can lure more people into their scam.
Since Ponzi schemes like ATIShares never have any source of income which can generate the real profit, so they will pay one member using the money invested by at least other two members. So, when they pay by following this kind of business practice, they will create a debt equal to the amount of profit that they pay to their members. Day by day the debt will be kept on increasing and ultimately the company will dry out with funds. However, Ponzi schemes always stop paying their members before the whole company collapse so that they can run away with the money of the majority of members.
We can say ATIShares.com doesn't have any real source of income because it hasn't mentioned anywhere about its source of income. Yes, we know it is from ATI Group who has other sites like ATIClix, but the income from those kinds of sites are not enough to pay 1.25% profit daily to the investment amount of the members. On top of that, the previous sites of ATI Group have lots of complaints already which shows they have a financial problem. So, how this company can pay all of its members 1.25% daily? It simply can't. So, in the end, the majority of members will lose their money since this company will stop paying anytime without any notification or with some indigestible excuses.
Before following these kinds of companies blindly just because they have shown you the payment proofs, first of all, think logically. Any genuine company can take a loan from a bank at the rate 1% monthly or even less. So, why any company will like to collect the investment from several people by paying them 1.25% daily than paying 1% monthly to the bank if they need to raise a fund to invest in their project? Of course, none of the genuine companies will like to pay more profit to the investors when they have the option to collect the funds from a bank in a much more lower rate.
So, ATIShares.com is a clear cut Ponzi scheme, there is no any doubt on that. So, save your money, don't invest even a cent in this site.
Even the "terms of service" / "terms and conditions" of ATI Shares itself proves it is an illegal company because, in its terms of service (TOS), it has mentioned it is not available to general public and only qualified members can join it. However, everyone can join it and invest money there. So, this is the first false statement in the TOS of ATI Shares.
In TOS of ATIShares, it has also mentioned that this program is exempt from the US Securities Act of 1933, the US Securities Exchange Act of 1934 and the US Investment Company Act of 1940 and all other rules, regulations, and amendments because transactions happen privately only. Well, this is completely a false statement because if any people (for example you) can join this company and invest in its ROI plans, then that means it is available to the general public, not only between the private qualified members. So, it is not exempt from the US Securities Act and it makes itself clear that it is not registered with SEC to do the business in the USA due to which it can face the legal issue anytime in the future.
ATIShares has also mentioned on its TOS that it is not FDIC insured, it is not a licensed bank or a security firm and it is not responsible or liable for any loss of data. It has also mentioned that you are investing at your own risk and you agree that past performance is not an explicit guarantee. In addition to that, it has mentioned it reserves the right to change the rules, commissions, and rates of the program at any time and at its sole discretion without notice. Actually, it has mentioned lots of such things in its TOS which seems more like a threatening letter than a TOS. You can find the screenshot of ATIShares TOS as below:-
---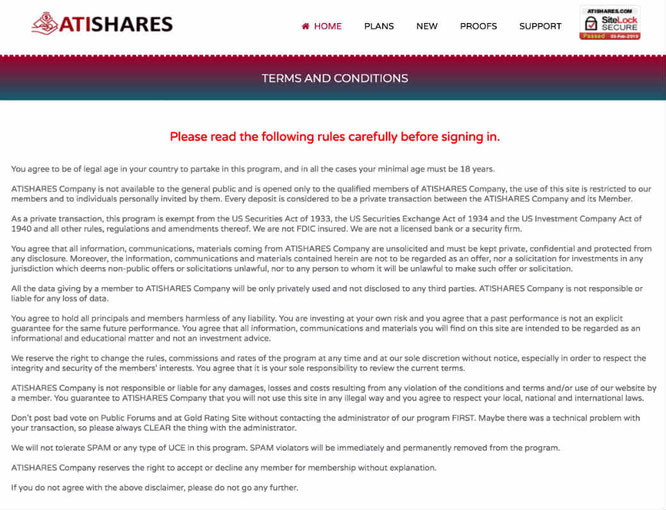 ---
Conclusion:-
Well, do you really want to invest in a company with the TOS as you can see above? Well, we will never dare to put our hard earn cash on such an illegal and unsustainable platform. However, at least ATI Shares is not lying about itself on its TOS and declaring to be an illegal company by itself, but wait, how many read TOS? Maybe only 1% of people who visit the site or even less.
Since we have already reviewed lots of Ponzi schemes so we can easily say that ATIShares is a Ponzi scheme just by looking at it for a few minutes. Above mentioned facts are just to prove you that ATI Shares is a scam.
Still don't believe us? Well, then you can ask with the legal authorities in your country about this company. They will say exactly the same thing what we are explaining you here.
Actually, this kind of business model has been already marked as a scam by the legal authorities and have warned the general public to stay out of the companies with this kind of business.
Now it is clear that ATIShares is a scam. So, we have listed it in our Bad and Scams category.
Never go after these kinds of easy way to make money online. However, if you can do some work, then you can find plenty of legitimate options to make money online. We have also listed a few legit money-making opportunities which you can find by clicking >HERE<.
If you are looking for a serious way to make money online, then blogging is the best option for that. These days it is very easy to establish your own blogging business. You no need to have any technical knowledge for that. You can simply join the online business training programs like Wealthy Affiliate and follow the step by step video tutorials there to establish your own blogging business. If you are interested, then you can find more details on Wealthy Affiliate by clicking >HERE<.
---
Please help us to spread the awareness about this ATI Shares scam by sharing this ATIShares review with your friends and families through your social media accounts:-
---
Do you want to report something about ATIShares? Do you want to provide your own ATIShares.com reviews? Do you need our help in relation to online work and business industry? If so, then please feel free to leave your comment below.
We will be more than happy to hear from you and help you.
Good Luck!