Click to rate this organization, product, or online activity!
What is Gladia Coin? Scam? GladiaCoin Review
---
Update:- After scamming the money of lots of people from GladiaCoin.com, the same group has again reopened same business with same website theme, only with different domain name and that is Gladiacoin2.com. However, GladiaCoin2 has same business format of GladiaCoin which is still illegal and unsustainable. They open GladiaCoin 2 only to scam the money of more new people who were unaware of GaldiaCoin scam. So, stay out of Gladia Coin 2 as well.
---
---
Are you searching for the GladiaCoin reviews in order to find out what is GladiaCoin, either is GladiaCoin.com a scam or a legit, either is Gladia Coin Ponzi scheme or not, either is GladiaCoin legal or not, either is there any GladiaCoin complaints or not and so on? If so, then you are absolutely in the right place because here, within our Gladia Coin review, we are going to provide you the real truth about GladiaCoin. However, before we begin with GladiaCoin.com review in detail, we want to make it clear that that neither we are promoting, nor we are recommending this site. Actually, we have listed GladiaCoin within our Not Recommended companies list and the reason for that you can find out within our GladiaCoin review in detail as below. In order to recommend any company, we don't only consider either they pay or not, but also consider their business model is sustainable to pay for long term or not, their business is legal or not, their owner details is clear or not, the number of complaints are less compare with positive feedbacks or not and so on. In order to know more about our recommended online work companies, you can click this link:- newsonlineincome.com/legitimate-work-home-businesses/
If you are more interested to find out what is our No.1 recommended online work company, then it is Wealthy Affiliate about which you can find the details by clicking the link as below:-
newsonlineincome.com/wealthy-affiliate-review/
OK, now let's begin with our Gladia Coin review as below in details.
---
---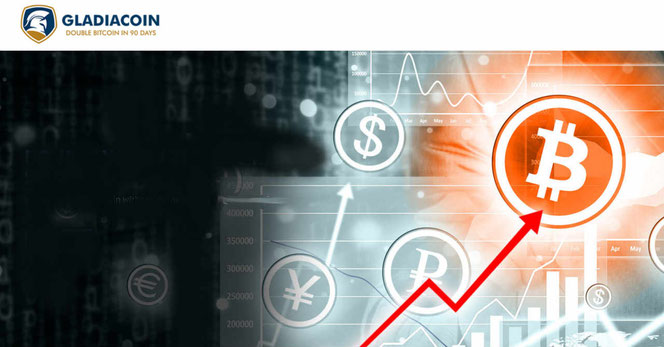 Gladia Coin login and join in link:- https://gladiacoin.com/ (Not recommended to join)
---
What is GladiaCoin and why we don't recommend it?
Gladia Coin is pretending to be a Bitcoin investment MLM (Multi Level Marketing) company, but in reality it is a combination of both illegal schemes known as Pyramid scheme and Ponzi scheme. No one knows who runs and operates the GladiaCoin because the owner details and the address of the company is completely hidden within their WHOIS details as well as there is not any information regarding that within their website as well.
GladiaCoin offers the referral commission on the sell of their ROI products which are not real products, but instead are the Ponzi scheme which offers members 200% ROI within 90 days which is completely unsustainable rate. So, offering commission to their members without selling any real products or services, just for selling their different plans of ROI, makes them Pyramid scheme and offering 200% ROI without any verifiable source of income makes them Ponzi scheme. Even if they can show the verifiable source of income, then also that doesn't count at all because if any legal business can make enough profit to pay back their members upto 200% ROI within 90 days, then those kinds of companies never need to collect the investments from several people because any legal business which can generate that much profit can easily get loan from any local bank in much more lower rate than that.
As per their compensation plan, first of all you need to invest 0.05 BTC to 4 BTC to be eligible to work with Gladia Coin. As per their promise, you will get 200% ROI on your investment amount within 90 days. For example, if you invest 0.1 BTC on Spartacus 2, then you will receive 200% ROI in 90 days, means 0.2 BTC in total within 90 days. In the same way, when you invest 0.3 BTC on Spartacus 3, 0.5BTC on Spartacus 4, 1 BTC on Spartacus 5, 2 BTC on Spartacus 6 and 4 BTC on Spartacus 7, you will receive 200% ROI on your invested amount in 90 days. However, they haven't mentioned clearly how much money members can earn back by investing 0.05 BTC in their Spartacus 1 plan. They have only mentioned that money will not double within 90 days if members invest in Spartacus 1 plan and members can earn upto 5% referral commission, that's all.
Like we have said before, Gladia Coin also offers residual commission via binary structure plan. Means you will earn commissions from your direct recruited referrals and also from the referrals of your referrals. There is no limit on the levels of the referrals, means you can keep on earning form your unlimited downlines level. Another way to make system more unsustainable.
Within a binary compensation structure, the affiliate that recruits splits into two sides, left and right. Means if you recruit 2 affiliates, one will be on the left side and another will be on the right hand side of binary structure. Then similarly, when your those 2 referrals refer 2 more referrals under them, then those two referrals will be placed on left and right hide side of their binary structure and then you will have 4 referrals on your level 2 binary structure, 2 of which will be on the left hand side and other 2 will be on right hand side. So, that means, if you refer 2 referrals and your referrals also refer 2 referrals, then you will have 1 referral on level 1 and 2 referrals on level 2 on left hand side and other 1 referral on level 1 and 2 referral on level 2 on right hand side, means total 6 referrals. Similarly, when your those level 2 referrals also refer people, that goes on your level 3 binary structure. Like this level can goes deep down, upto unlimited downline levels. At the end each day GladiaCoin will tally the investment volume that you get from both sides of binary team and you will get the percentage of matched investment volume.
How much percentage of residual commission need to be paid out is determined according to the invested amount of affiliates on their different Spartacus plans. Means, if you have invested 0.05 BTC in their Spartacus 1 plan, then you will earn 5% commission from your referrals invested amount, but not more than 0.1 BTC a day or 3 BTC per month. Similarly, you can earn 6% commission if you have invested in Spartacus 2 plan, but capped at 0.2 BTC per day or 6 BTC per month, 7% commission from Spartacus 3 plan, but capped at 0.6 BTC per day or 18 BTC per month, 9% commission from Spartacus 4 plan, but capped at 1 BTC per day or 30 BTC per month, 11% commission from Spartacus 5 plan, but capped at 2 BTC per day or 60 BTC per month, 13% commission from Spartacus 6 plan, but capped at 4 BTC per day or 120 BTC per month, 15% commission from Spartacus 7 plan, but capped at 8 BTC per day or 240 BTC per month.
Aforementioned, now it is clear that GladiaCoin is nothing other than the combination of both illegal schemes, Pyramid and Ponzi which even hasn't provided any owner details. So, we don't recommend it from our side.
Conclusion
Aforementioned, it is clear that GladiaCoin is not a good company which owner details is completely hidden and business model involves both Ponzi Scheme and Pyramid Scheme. So, it doesn't matter if GladiaCoin pays or not because most of these kinds of companies always pay at starting till they keep on getting new investments more than the withdrawal amount. Once they start to see that withdrawal amount is increasing day by day, they will stop paying completely and run with rest of the money. However, even if they manage to run for longer time, then also they can face legal issues anytime in the future because these kinds of business are not legal in many countries. So, we don't recommend this company. We never recommend any companies whose business is illegal and unsustainable, whose owner details are not clear or which has lots of complaints and so on. In order to be more clear to find out what kind of companies we do recommend, you can take a look at our list of recommended online work companies by clicking this link:- newsonlineincome.com/legitimate-work-home-businesses/
Like we have said before, after considering the factors like business legality, business sustainability, amount of complaints, owner details, format of business and so on, we have rated Wealthy Affiliate as a No.1 online work company. If you are interested to find out more details on Wealthy Affiliate, you can click this link:- newsonlineincome.com/wealthy-affiliate-review/
---
If you want to save your friends and families from GladiaCoin.com, then you can share this GladiaCoin review with them.
---
Related Posts:-
It's our pleasure to have a comment from you. So, please feel free to leave your comment below if you have to say anything about Gladia Coin or want our help in relation to online business.
We will be more than happy to hear from you and help you.
Good Luck!
Click to rate this organization, product, or online activity!