My Advertising Pays Review, Is Myadvertisingpays Scam or Legit?
---
NOTE:- You must know that we are here only providing review on MyAdvertisingPays. It doesn't mean that we are promoting or recommending this site to you. Our No.1 recommended company is Wealthy Affiliate and you can find our detail review on Wealthy Affiliate by clicking the link or red banner as below:-
http://www.newsonlineincome.com/wealthy-affiliate-review-no-1-work/

---
---
Update :- We are moving MyAdvertisingPays to our "Not Recommended" sites list because although it is paying till date, there are lots of bad points to be consider such as they pull of USA market and still they haven't returned back the investment of all members from USA. From starting we have doubt in this site about which you can find within our review as below. More than that, owners of MAP is now facing charges from concerned authority due to their past ponzi site known as BannerBrokers.
What is "My Advertising Pays"
Myadvertisingpays is traffic exchange plus revenue sharing website where you can earn money when you purchase adpacks and click 10 ads per day. Instead of spending money to advertise your referral link or website, you will earn from your advertisement. If you purchase advertisement package @$49.99 each, then you will get $60 back after some days and your advertisement will be free of cost and even you can earn money from it.
Background of Myadvertisingpays
The owner of Myadvertisingpays is Mike Deese. Myadvertisingpays was registered on 2013-06-29. In the past owner of Myadvertisingpays was involved in ponzi program known as Banners Broker. That site has been shut down by Canadian Authorities after declaring it Ponzi. But, MyAdvertisingPays is still online and paying on time from 2 years and till now none of the authorities has been shutdown this site. May be it is because people invest in this company not only to earn money, but with same investment they are buying the advertisements as well. So, it is advertisement company with low rate Ponzi scheme and we can't guarantee about its future. The main drawback of MAP is that their business model is still not sustainable and ponzi in nature. However it seems that they are trying to make it stable as far as they can. Anyway, we can test Myadvertisingpays for 4 years (starting from registration date) and if till that time also it keep on paying without any issue and their business model become totally sustainable, then we can change their status to legit.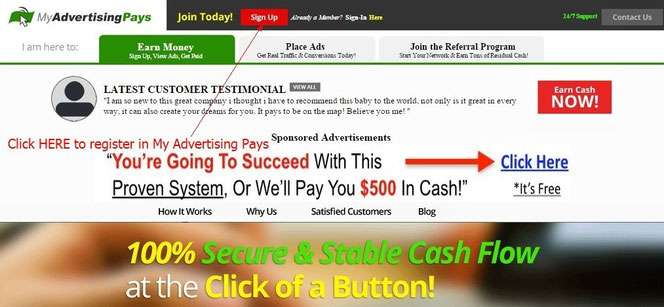 Detail Strategy to work in Myadvertisingpays
It is very easy to work in MyAdvertisingPays (MAP). You just need to follow three steps as explain below to earn money in MAP.
1. Buy Adpacks @$49.99 each and advertise any of your website or referral links where you want to have sales or referrals. After you buy Adpacks, you will be part of the revenue sharing program in MAP and you will earn money everyday till you earn back $60. So, if you invest $49.99, you will get back $60 and will advertise your website or referral link free of cost. In this way you can buy as many adpacks as you want to get more benefit. Most of members are purchasing upto 5 adpacks together so that they can earn continuously by re-investing their earnings.
2. In order to qualify for daily earnings from revenue sharing as describe in No.1 above and to get commissions from your referrals as describe in No.3 below, you should click (view) 10 traffic exchange ads everyday.
3. You can increase your earnings by referring as many people as you can in MAP. You will get 4% to 10% of your referral purchase depending upon your type of membership (free or upgrade).
How to get referrals in Myadvertisingpays?
As Myadvertisingpays is revenue sharing traffic exchange site and almost similar to PTC sites, so in order to get referrals in MAP, we can follow same strategy of getting direct referrals in PTC sites and other online work companies, which you can find by clicking HERE
Conclusion about Myadvertisingpays
Although MAP is going to be 2 years old soon, still we can't declare it as legit because their business model is still unsustainable and they don't have enough member to make their business stable. So, if in the future they are able to grab much more members and order to sell credits ads more than adpacks or add other additional income stream to generate more profit for site, then we can consider them sustainable and can move to our legit list. However, at the moment we can't move them to our legit list.
Anyway, they are still paying on time from almost 2 years and members are earning good income from it. So, it is not so bad to work in this site. However, we always recommend you to invest only that much amount in this site which you can afford to lose as their business model is still unsustainable.
If you are interest to join in Myadvertisingpays, then you can click big picture of MAP home page as above within this review and register in it.
Myadvertisingpays is definitely not a platform to plan for stable full time online income for lifetime. If you are searching for stable online work which can generate full time online income for your lifetime, then we suggest you to join our No.1 recommended company. You can find detail about our No.1 recommended company and the link to join that company by clicking this link:-
http://www.newsonlineincome.com/wealthy-affiliate-review/
Your comments are valuable for us. So please feel free to leave the comment below if you want to report anything about MyAdvertisingPays or about any other online work companies.
We are happy to help you.