My Home Income System Review, Is it Scam or Legit?
---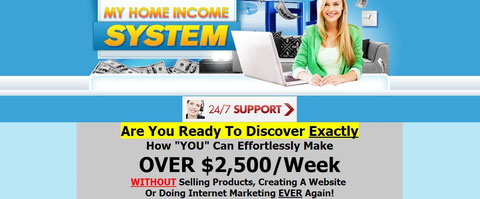 "My Home Income System" is totally worthless platform where you have to scam other to earn money, otherwise you can't earn money as they claim. The product offer by My-home-income-system is totally worthless, so if you want to earn money from affiliate (MLM) program of this system, you have to sell crappy product to your affiliates and scam them. So, the only way to earn money within this system is by scamming other people, otherwise you can't earn money from it.
---
---
The owner of My-home-income-system Jessi Adler and he is from Cyprus. He doesn't have any record in the past in online work industry and due to"My Home Income System" his reputation in online work industy has ruined as there are many complaints against him around the Internet for scamming people through "My Home Income System".
As we mention before, the product which you buy in order to earn $2,500 per week in "My Home Income System" is totally worthless because you never can make that much money. This product claims you to earn such amount by creating facebook pages which is impossible figure to earn because no one can earn that much amount in Facebook without selling any products as claim by My-home-income-system and even it is hard to earn by selling products by using Facebook Marketing as it needed very hard work, dedication and long time to do so. But, My-home-income-system claims you that you can start to earn within a few minutes by creating facebook pages after you sign up in their program by spending $20. This is totally scam in order to make you spend $20 in their system because you can't earn even a single penny after you follow that system. You can only earn from My-home-income-system when you can able to make affiliates under you by letting them sign up by paying $20 into the system and with that $20 your affiliate will get nothing. It is very bad practice to earn money online as you also need to scam other people in order to earn money. You can find lots of complaints around the internet from those people who sign up in this system and gain nothing.
All testimonials and payment proofs as shown in by "My Home Income System" is totally fake which is additional point to declare them Scam.
So, we never recommend anyone to work in "My Home Income System" as it is totally a scam platform. If you want to find out the legit companies and real ways to earn money online, then you can visit our "Good and Trusted Online Works" page by clicking this link:- 
http://www.newsonlineincome.com/legitimate-work-home-businesses/
---
Please feel free to share this post with your friends and families:-
---
Related Posts:-
We love to hear from you. So please feel free to leave your comment below if you want to report anything about "My Home Income System"  or want to report anything about other online work companies.
We will be more than happy to help you and hear from you.
Good Luck!